Fashion designer Stella McCartney said she hopes to set an example for sustainable practice in the industry as she was made a CBE at Windsor Castle.
The 51-year-old has championed a vegan lifestyle and sustainable design since the beginning of her career and recently launched her brand's first regenerative cotton garments.
McCartney, who received her honour from the King on Tuesday, told the PA news agency she aimed to "set an example for sustainable practice", including using mushroom leather to create her handbag.
The designer, who was honoured for services to fashion and sustainability, added: "I feel very privileged to be in the position as a founder of the British fashion house that I can be mindful and conscious in the decisions I make.
"If I can do it, anyone can do it. We need to get more fashion houses and fast fashion working in this way, because every single second there's a truckload of fast fashion burnt or buried – it's a dirty business."
McCartney was recognised in the late Queen's 2022 birthday honours and said accepting her CBE from Charles was "the greatest moment" of her professional life.
"I feel very lucky and I feel really proud to be British. I'm half-American but my business is here, my home is here, and it's moments like this that I feel it's great to be British."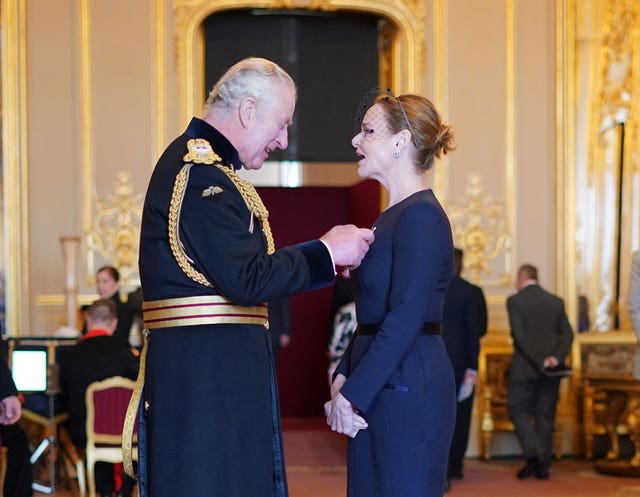 "Working on the 2012 Olympic Games was an absolute highlight of my career. That was a mind-blowing and memorable experience, it makes me emotional to think about it, I was so proud to be part of it," she said.
Also accepting an honour from the King was 90s rock star Skin, lead vocalist of Brit-rock band Skunk Anansie.
The 55-year-old singer, whose real name is Deborah Dyer, was made an OBE for services to music, and said the honour was "completely unexpected".
"It had literally never occurred to me that this could happen, it was a really lovely surprise."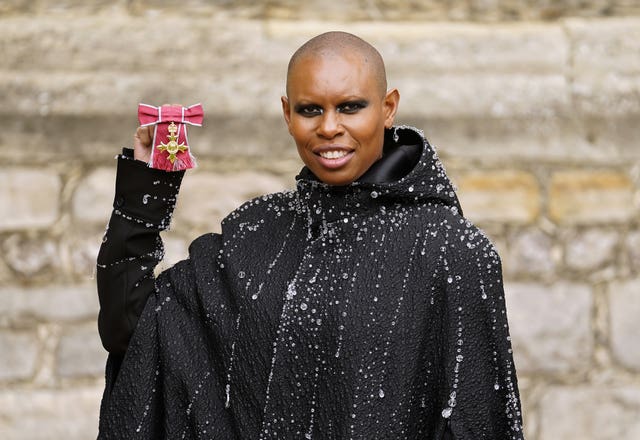 "Just being in this castle is an honour, it has so much history and so much tradition. It's quite nice to have been born in this country and to be in this position," she said.
The rock singer said it might be a stretch to expect the King to be a fan of her music, but recounted their "very sweet" conversation.
"We had a long old conversation. He said, 'So how did I manage to miss this wonderful band of yours? They keep telling me that this wonderful band of yours is excellent' – he was very sweet."