Presenter AJ Odudu said she and co-host Rylan Clark felt like the "bride and groom of Eurovision" has they hosted a handover ceremony and allocation draw ahead of this year's song contest.
The pair presented the handover, known as the Insignia, from St George's Hall in Liverpool on Tuesday ahead of this year's competition, which is being held by the UK on behalf of Ukraine.
Odudu, who wore a black sequinned dress with a thigh-high split, said: "The fact that we've colour co-ordinated our outfits today and the fact that it's the first Eurovision event of 2023, I genuinely feel like the bride and groom of Eurovision, self-titled."
He said: "It's been so fun with AJ, though, because I'm normally at Eurovision with people that live and breathe Eurovision, and AJ loves Eurovision, she is obsessed with it, but you've never actually come and lived in the delegation with us.
"It's been really fun, I feel like I've imparted wisdom today."
The presenters remained tight-lipped on whether they could be in the running to host the contest itself, which takes place on May 13.
Clark said: "We are just happy to be out of the house.
"All announcements for the semi-final and the final, and our entry, will be coming soon. And that is a stock answer."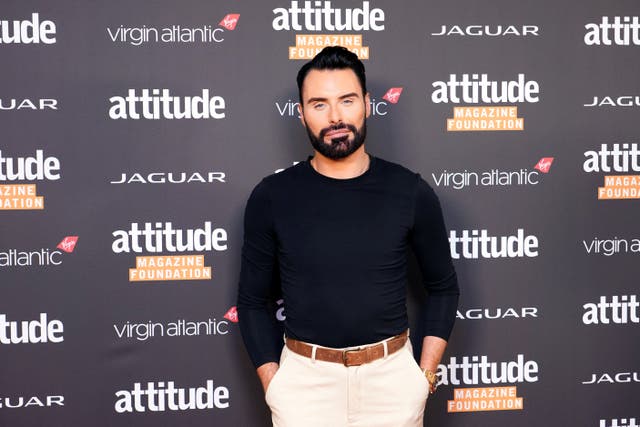 Odudu said: "I mean it's brilliant to have such a joyous occasion in such an iconic building in a really inclusive city, and we are bringing everyone together
"This isn't a pity party for Ukraine, this is something that we're hosting on their behalf. It's their party, it just so happens to be in Liverpool and if anyone can throw a party, it's the city of Liverpool."
Clark said: "Everyone's so friendly and just welcomes you, and the fact that we're bringing Ukraine here, I mean the welcome is just going to be absolutely ridiculous.
"From a personal note, my X Factor bootcamp was in that arena, so coming back all these years on I'm like 'I did all that'."
Odudu added: "It is brilliant, the music, the culture, everything about Liverpool, and it's such a historic city as well."