Exhausted Sudanese and foreigners have joined growing crowds at Sudan's main seaport, waiting to be evacuated from the chaos-stricken nation.
After more than two weeks of fighting, areas of the capital Khartoum appear increasingly abandoned.
The battle for control of Sudan erupted on April 15, after months of escalating tensions between the military, led by General Abdel-Fattah Burhan, and a rival paramilitary group called the Rapid Support Forces, commanded by General Mohamed Hamdan Dagalo.
Other nations have tried to convince the two generals to stop the fighting and come to the negotiating table.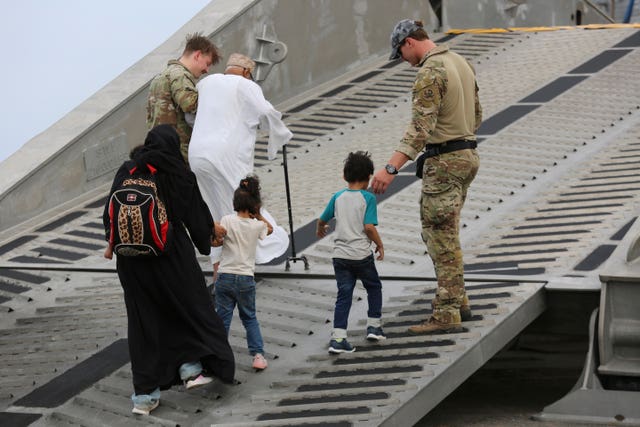 The statement did not elaborate on the possible venue or timing for the talks.
South Sudan President Salva Kiir spoke with both Gen Burhan and Gen Dagalo over the phone, the government said in a statement.
There was no immediate comment from either the army or the paramilitary.
Meanwhile, civilians were packing buses and trucks for Sudan's northern border with Egypt.
Many others headed to Port Sudan, on the country's Red Sea coast.
The relative calm of the port city, from which many foreign governments have evacuated their citizens, seemed the safer option.
"Much of the capital has become empty," said Abdalla al-Fatih, a Khartoum resident who fled with his family to Port Sudan on Monday.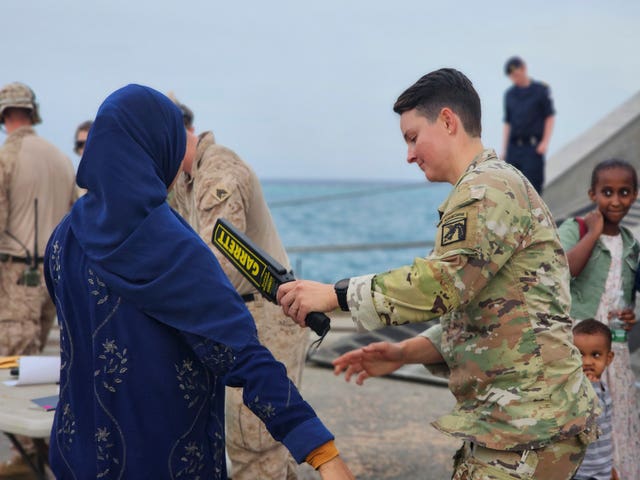 When they arrived in Port Sudan after a 20-hour journey, they found thousands, including many women and children, camping outside the port area.
Many had been in the open air for more than a week, with no food or basic services in the sweltering heat.
Others crowded into mosques or hotels inside the city.
Tariq Abdel-Hameed was one of around 2,000 Syrians in Port Sudan hoping to get out by sea or air.
Some 200 Syrians have been evacuated since the crisis began, including 35 on Friday on a vessel bound for Jeddah, Saudi Arabia.
The first Damascus-bound flight was scheduled to take off later on Tuesday, Mr Abdel-Hameed said, with about 200 on board, mostly pregnant women and sick people.
At the congested crossing points with Egypt, thousands of families have waited for days inside buses or sought temporary shelter in the border town of Wadi Halfa.
They had first gone to another crossing point, Arqin, but said it was too crowded to make the attempt.
Families with children and the sick were stranded in the desert landscape with no food and water, waiting for visas which are mandatory for Sudanese men to enter Egypt, he recounted.
In Khartoum, Mr Abdel-Rahman said he had seen widespread destruction and looting.
He knows many people whose homes have been commandeered by the paramilitary forces and thinks they are lucky to have left before their home was stormed.
"We could have ended up dead bodies," he said.
The fighting has displaced at least 334,000 people inside Sudan, and sent tens of thousands more to neighbouring countries – Egypt, Chad, South Sudan, the Central African Republic and Ethiopia, according to UN agencies.
Aid workers are increasingly concerned about lack of basic services in these areas.
At least 20,000 people crossed into Chad, which borders the Darfur city of Genena where clashes last week killed dozens and wounded hundreds.
Aleksandra Roulet-Cimpric, the Chad country director with the International Rescue Committee, described dire conditions for the arrivals there, many of them women and children who have no choice but to seek shelter from the heat under sparse trees.
The UN High Commissioner for Refugees Filippo Grandi warned that the number of people fleeing to neighbouring countries could surpass 800,000.
Early on Tuesday, the sounds of explosions and gunfire echoed through many parts of Khartoum, with fierce clashes taking place around the military's headquarters, the international airport and the Republican Palace, residents said.
Warplanes were seen flying overhead, they said.
The fighting continued despite the newest extension of a shaky ceasefire, meant to allow safe corridors for healthcare workers and aid agencies working in the capital.
"The war never stopped," said Atiya Abdalla Atiya, secretary of the Sudan Doctors' Syndicate.
Mortuaries across the capital are filled with bodies and people are still unable to collect the dead for burial, he said.
The Sudanese Health Ministry said it counted at least 550 people killed, including civilians and combatants, with more than 4,900 wounded as of Monday.
In addition to the South Sudanese proposal, there have been other suggestions aimed at stopping the violence and avoiding a worsening humanitarian disaster.
Both sides agreed to send representatives for talks that would potentially be held in Saudi Arabia, according to the UN envoy in Sudan, Volker Perthes.
The kingdom has joined the United States in pressing for a lasting ceasefire.
Another proposal, put forward by Sudan's former prime minister Abdallah Hamdok, who met this week with regional leaders and western diplomats in Kenya's capital Nairobi, set forward a series of five steps to help the two sides reconcile.
"This war can lead to a global emergency unless halted immediately," he said.
The power struggle has derailed Sudan's efforts to restore its democratic transition, which was halted in October 2021 when Gen Burhan and Gen Dagalo, then allies, removed Mr Hamdok's western-backed transitional government in a coup.