Campaigners fear "no-fault" evictions could continue to rise, fuelling homelessness even as the Government prepares to ban the practice amid spiralling rents and interest rates.
In the first three months of this year, 6,820 landlords started eviction proceedings under Section 21 – known as "no-fault" evictions as the landlord does not need to provide a reason to evict the tenant.
Figures from the Ministry of Justice show no-fault eviction claims rose 15.8% compared to the first three months of 2022 and were well above pre-pandemic levels, returning to their highest point since 2017.
Meanwhile, rents continue to rise and competition for rental properties remains fierce.
What follows is a look at what is driving this increase in eviction notices, and what its consequences might be for the private rental sector.
Government figures published in May show 34,300 households were threatened with homelessness in 2022 for this reason. Not only was that more than half the total number of private tenants threatened with homelessness that year, it was also a 50% increase on the figure for 2019.
Rising interest rates are at least partly to blame for this increase. After a long period of record-low interest rates, the Bank of England began to raise rates at the end of 2021 to tackle the emerging inflation problem.
Interest rates are now 18 times higher than they were at the end of 2021, meaning some landlords struggling to cover their buy-to-let mortgages have decided to sell up or find new tenants willing to pay higher rents.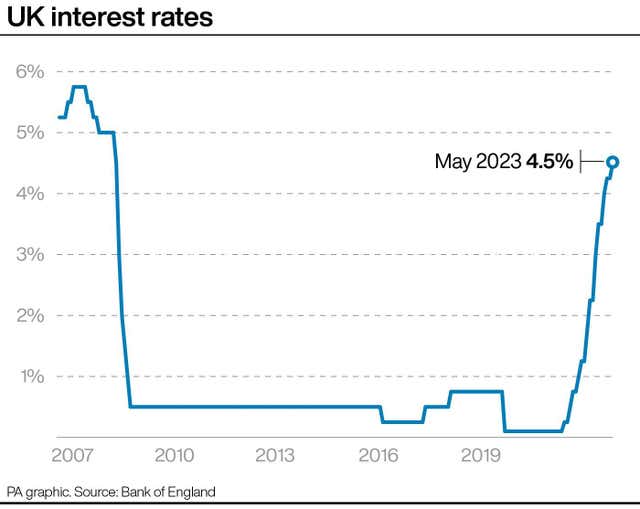 He said: "What we have effectively done there is created a situation where for many landlords it's costing them money to keep a rental property sat there."
But mortgage debt is not the only thing driving evictions, especially as 38% of private landlords do not have a mortgage at all.
Emer Sheehy, a policy manager at Citizens Advice, said evicting tenants is also a way to cash in on rising rents, especially as pressure on household budgets has made existing tenants more willing to "push back" on rent increases that they would be unable to "absorb".
Average private rents rose 4.8% in the year to April 2023, according to the Office for National Statistics, but market indices show a much larger increase for new rental agreements.
Estate agent Hamptons, for instance, found the rental price for a new tenancy rose by almost 11.1% in the year to April 2023, with the average monthly rent outside London breaching £1,000 for the first time.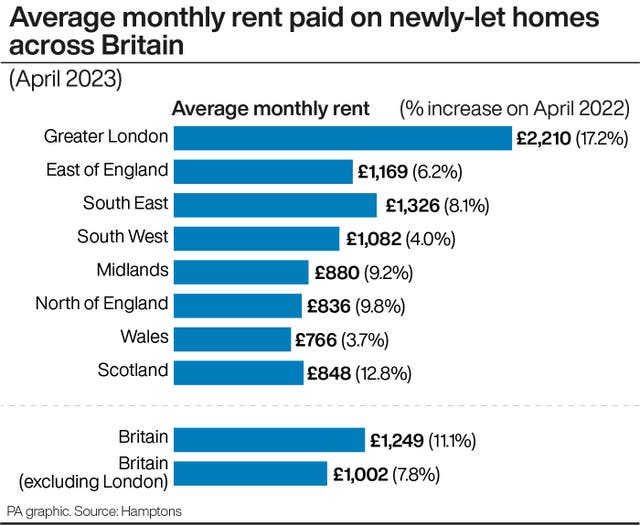 Both Mr Emerson and Ms Sheehy told the PA news agency that they expect this situation to carry on, as demand for tenancies continues to outstrip supply. Propertymark members reported an average of 16 potential tenants for every available property in April, an increase on the previous month.
Ms Sheehy said: "With the market being as it is and average rents continuing to rise, I think there's a risk that landlords will continue to evict tenants."
But rising rents and interest rates are not the only factors driving landlords to sell up.
Many of those who bought properties with the first buy-to-let mortgages in the late 1990s are now retiring and looking to cash in on their investment.
Mr Emerson said: "We've got a lot of landlords in their 50s and 60s now, so they were probably going to sell up eventually."
Hamptons estimates that the number of retiring landlords has doubled since 2010 and will continue rising due to the UK's ageing population. The estate agent found 140,000 properties were sold by retiring landlords in 2022, and while some will have waited for existing tenancies to end before selling, others will have issued eviction notices.
As evictions rise, the consequence charities are most worried about is an increase in homelessness, putting huge strain on local authorities whose homelessness services are already stretched.
Ms Sheehy said: "We expect to see more people looking for local authority support, but they won't qualify and there won't be that support available because of the limitations in social housing.
"So there's a big risk of an increase in homelessness that we are worried about."
These concerns have led to renewed calls for an end to Section 21, which the Renters (Reform) Bill is set to abolish in line with a commitment in the 2019 Conservative manifesto.
Michael Gove, the Housing Secretary, said this along with other measures in the Bill would "ensure that everyone can live somewhere which is decent, safe and secure – a place they're truly proud to call home".
Mr Emerson also expressed concern that the abolition of Section 21 would mean yet more landlords look to sell up and leave the sector, further reducing the supply of homes.
However, both Ms Sheehy and Polly Neate, chief executive of the charity Shelter, expressed doubt about this claim.
Ms Sheehy said landlords tend to sell to other landlords, while Ms Neate said there is "no clear evidence of a mass exodus of landlords", with data published in May showing the number of private rented dwellings increased by 11,000 in 2022.
But what could happen is a consolidation of rental properties in the hands of larger landlords.
Mr Emerson acknowledged that while some landlords are selling to owner-occupiers, others are being sold to "institutional investors".
If this happens at scale, it will mean a significant change to the UK's private rental market. The sector is currently dominated by small, individual landlords, almost half of whom own just one rental property and 82% own fewer than five.
The implications of this change are uncertain, with some claiming larger landlords are more professional, while others claim they are just as "variable" as individual landlords.
Meanwhile, rents look set to continue rising along with mortgage payments, with further interest rate rises expected.
Ms Sheehy said: "It's a pretty worrying picture and the data doesn't show signs of slowing down."