Potholes take more than 18 months to be fixed in some areas, the Liberal Democrats claimed as the party blamed a "postcode lottery" in its latest attack on Tory spending cuts.
Repairs took up to 567 days in Stoke-on-Trent and up to 556 days in the Westminster City Council area, according to data obtained by the party through freedom of information (FOI) requests.
It comes after the Prime Minister sought to focus on fixing Britain's ailing roads in the run-up to May's local elections.
Opponents have accused him of deploying a "complete re-hash" of a year-old pothole crackdown, with Downing Street confirming there is no new money on top of the £200 million in the Budget.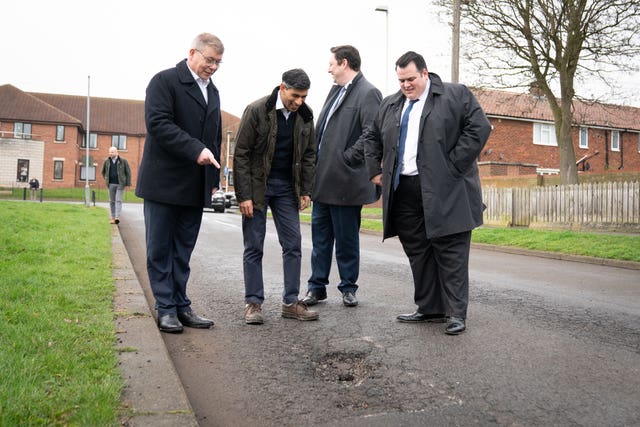 Roads in Derbyshire County Council were the hardest hit with 90,596 potholes, followed closely by Lancashire County Council with 67,439 and Northumberland County Council with 51,703, the party said.
The Lib Dems accused the Government of creating a "pothole postcode lottery" by cutting local authorities' highways maintenance budgets by £500 million since 2020-21 and announcing only a £200 million top-up to the national potholes fund in the Budget.
"Hardworking people are paying huge bills to repair damage from potholes, while this Conservative Government takes away the money local councils need to repair our roads.
"It is not fair for local residents in some areas of the country to be waiting over a year for road repairs because their council cannot afford it.
"The pothole, postcode lottery needs to end. That's why the Liberal Democrats are demanding that the Government reverses its cuts to councils' road maintenance budgets in full, so they can get on with fixing our roads."
On a visit to Darlington last month, Rishi Sunak highlighted new regulations that will see utility companies penalised for leaving streets in poor condition.
Mr Sunak said: "There'll be more fines, more inspections, that's also going to help. We want to make sure it's easy for people to get around."
Labour said the announcement echoed a 2021 Government pledge to make potholes a thing of the past and accused ministers of "broken promises".
A Department for Transport spokesperson said: "We're investing more than £5.5 billion to maintain roads up and down the country, and cracking down on utility companies that leave potholes in their wake, so motorists and cyclists can enjoy smoother, safer journeys."
Conservative Party chairman Greg Hands said: "If you are unfortunate enough to live in an area with a Liberal Democrat council it's less likely your potholes will be fixed.
"Labour's record is no better. Their only plan to stop potholes in Wales is to simply stop building any roads.
"Conservatives fix more potholes than Labour or the Liberal Democrats."