Esme Young and Twiggy are among the famous faces to remember fashion designer Dame Mary Quant as a "trailblazer" whose designs helped "liberate women".
The British fashion designer, widely credited with popularising the mini skirt, died on Thursday morning aged 93, her family said.
Fashion designer and TV presenter Young, 74, told the PA news agency: "She designed things for the women who wanted to wear them and she was a big influence on a lot of designers – a really big influence."
She added: "I absolutely think she did liberate women. She put it out there and we were all influenced by that.
"It felt like freedom – 'I can have a mini skirt and I can wear whatever colour tights I want and you can piss off'.
"It was about women. And I know some men might say it was sexual but I don't believe that. I believe it was a way of women expressing themselves and having freedom."
Young also explained the impact Dame Mary had on the establishment of London's King's Road as a fashion and design hub, telling PA: "She made the King's Road happen. Without her, I don't think it would have happened."
Dame Mary's clothes were popularised by famous faces including model Jean Shrimpton, photographer and model Pattie Boyd, Cilla Black and Twiggy, with the latter, whose real name is Dame Lesley Lawson, remembering her as a "brilliant female entrepreneur".
In a post on Instagram, Twiggy wrote: "Mary Quant was such an influence on young girls in the late 50s early 60s. She revolutionised fashion and was a brilliant female entrepreneur. The 1960s would have never been the same without her. Condolences to her family, RIP dear Dame Mary."
Boyd called Dame Mary a "true icon".
She recalled on Twitter how Dame Mary made her and her former husband George Harrison's wedding coats, sharing an image from the ceremony in 1966 which shows her and the Beatles star donning the fur coats.
She wrote: "Very sad news today to learn of the passing of the 60s daringly creative, fun genius, much-loved lady, Dame Mary Quant.
"Mary insisted on making George's and my wedding coats in 1966; his, Black Mongolian Fur and mine, Red Fox. A true icon. RIP."
Born in south-east London on February 11 1930, Dame Mary was the daughter of two Welsh school teachers.
She gained a diploma in the 1950s in Art Education at Goldsmith's College, where she met her husband Alexander Plunket Greene, who later helped establish her brand, he died in 1990. The designer is survived by her son Orlando, three grandchildren and her brother Tony Quant.
A statement from the family said: "Dame Mary Quant died peacefully at home in Surrey, UK, this morning.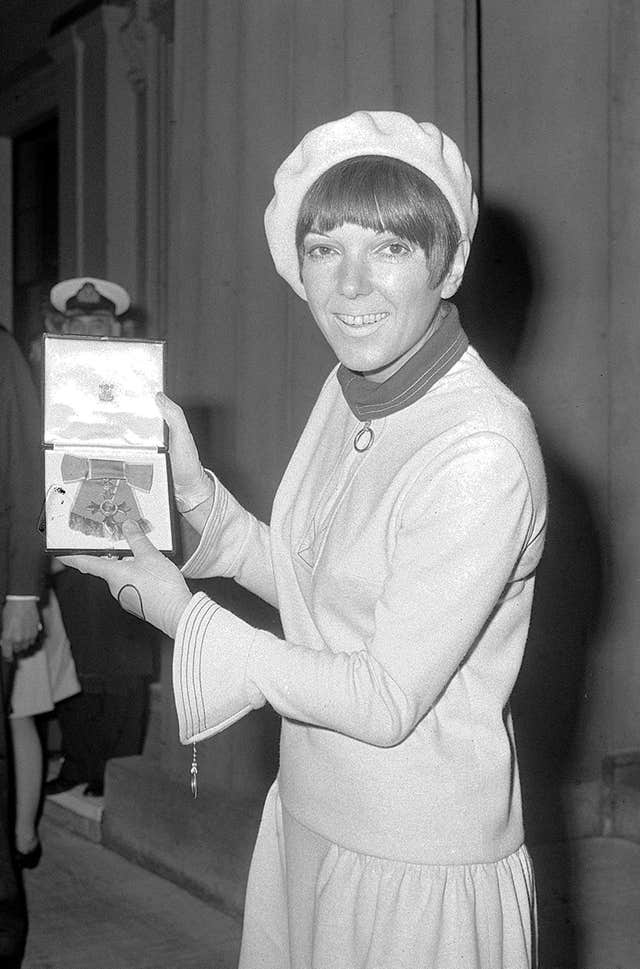 Following the news, fellow designer Sir Paul Smith said: "I'm very sad to hear about the passing of Mary Quant, she was a brave innovator who was constantly modern, willing to shock and blessed with a business and personal partner, Plunket Greene, who could help turn her ideas into reality."
Professor Frances Corner, warden of Goldsmiths, University of London, added: "Dame Mary was a pioneer who made an indelible mark on society through her visionary work."
Prof Corner added that she was "one of the original disruptors whose trend-setting work changed the way we thought as well as how we dressed."
Dame Mary was taken on as an apprentice to a milliner before making her own clothes and in 1955 opened Bazaar, a boutique on the King's Road in Chelsea.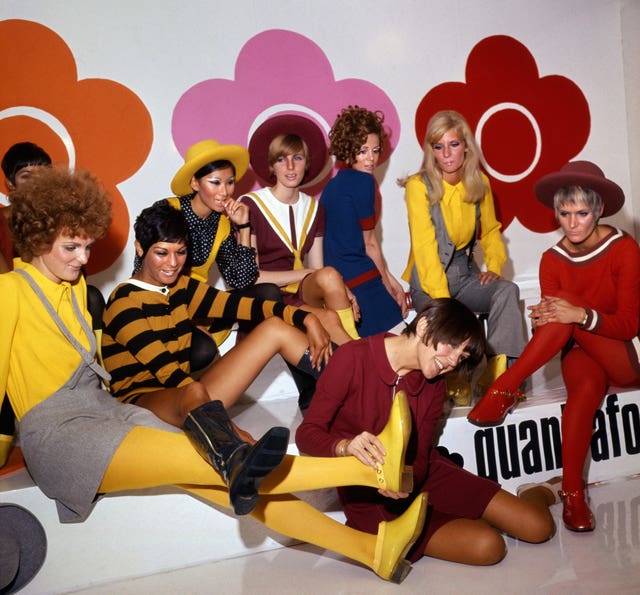 She was one of the most influential figures in the fashion scene of the 1960s and is credited with making fashion accessible to the masses with her sleek, streamlined and vibrant designs.
Among her collection, she is arguably best known for conceiving the mini skirt as well as helping to develop the mod style in the 1960s.
She began experimenting with shorter hemlines in the late 1950s, culminating in the creation of one of the defining fashions of the following decade.
In 2014, Dame Mary, who named the skirt after her favourite make of car, recalled its "feeling of freedom and liberation".
She said: "It was the girls on King's Road who invented the mini. I was making clothes which would let you run and dance and we would make them the length the customer wanted.
"I wore them very short and the customers would say, 'shorter, shorter'."
Other styles from the 1960s included Peter Pan collars, as well as knitwear, swimwear and accessories and garments made using Butterick patterns.
She broke into the American market in 1962 following a deal with US department store chain JC Penny for clothing and underwear design.
From that point onward, she was inundated with requests for designs in various fields from Britain, Europe and US.
In 1964, she launched her own cosmetics brand. She resigned as the director of the company in 2000 after a Japanese buyout which soon produced more than 200 Mary Quant Colour shops in Japan.
She was made a dame for services to British fashion in the 2015 Queen's New Year list and was appointed a member of the Order of the Companions of Honour in the most recent New Year Honours list.
The special award is granted to those who have made a major contribution to the arts, science, medicine or government.
She was also awarded the prestigious Hall of Fame Award by the British Fashion Council for her contribution to British fashion in 1990.
In 2021, actress and film producer Sadie Frost created a fashion documentary about Dame Mary called Quant.
Contributions to the biographical film came from prominent figures in the world of fashion such as supermodel Kate Moss, designer Dame Vivienne Westwood, beauty entrepreneur and make-up artist Charlotte Tilbury, designer Jasper Conran and designer Dame Zandra Rhodes.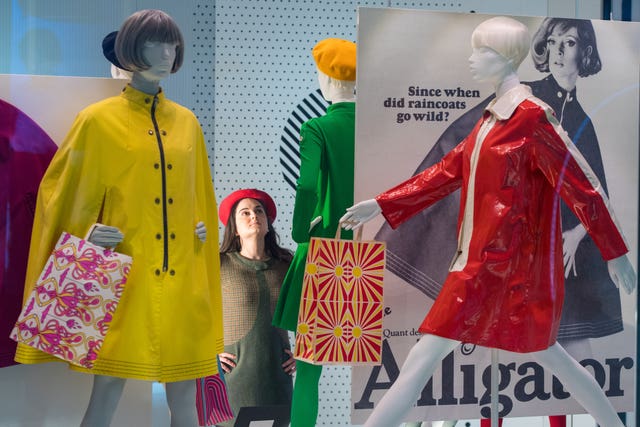 At the time, Dame Mary said: "It was wonderfully exciting and despite the frenetic, hard work we had enormous fun.
"We didn't necessarily realise that what we were creating was pioneering, we were simply too busy relishing all the opportunities and embracing the results before rushing on to the next challenge!"
Following the news of her death, Jenny Lister, the curator of the Dame Mary exhibition at the V&A, said the fashion world "owes so much to the revolutionary, trailblazing Mary Quant".
In a statement to PA, Lister said: "It's impossible to overstate Dame Mary Quant's contribution to fashion.
"With her unique sense of humour, style, and determination to democratise and share the fun and creativity of her designs, she provided a new kind of role model for young women, creating a space for them to be themselves."
Alexandra Shulman, former editor-in-chief of British Vogue, described the designer as a "visionary".
While head of curatorial at the Design Museum, Priya Khanchandani, said: "Known for popularising miniskirts, hot pants and hosiery, Mary Quant's playful designs in contrasting colours represent the apotheosis of 60s fashion and female liberty.
"A creative visionary and retail pioneer, who built one of the most enduring businesses of her time, she made her innovative style accessible to so many; and design today owes a great deal to her legacy."