A lawyer for a man accused of gunning down rising rap star XXXTentacion during a 2018 robbery outside a Florida motorcycle shop has told a jury that DNA evidence proves his client and another man are innocent.
Joseph Kimok gave the final defence closing argument in the trial of three men accused of first-degree murder, saying that while the singer struggled with his killers before being shot and DNA was found on the body and on a stolen necklace, it was not from his client – 28-year-old Michael Boatwright.
Nor was it from alleged second gunman Trayvon Newsome, 24, or alleged getaway driver and ringleader Dedrick Williams, 26.
"Whoever (XXXTentacion) struggled with is not in this courtroom," Mr Kimok told jurors as the four-week trial neared its conclusion. "The DNA proves that someone not named Michael Boatwright or Trayvon Newsome participated in this murder."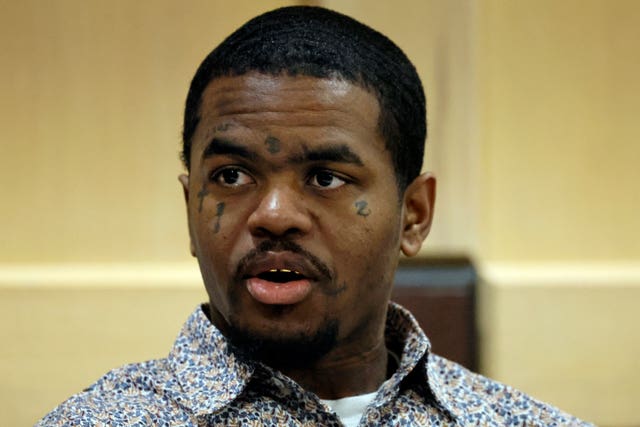 Lawyers for all three men say he is lying about their clients' involvement in the murder and robbery, which netted 50,000 dollars.
They also say Broward County sheriff's detectives botched the investigation, failing to consider other possible suspects including Canadian rap star Drake, with whom XXXTentacion had an online feud.
Lead prosecutor Pascale Achille in her rebuttal argument on Wednesday admitted that Allen is not a perfect witness, that he has previous felony convictions, but co-conspirators in murders rarely are.
"Plans hatched in hell do not have angels for witnesses," she said.
Ms Achille said that while detectives never found the guns, masks and money, only Williams was arrested within days of the shooting, giving the others time to hide any evidence.
She said the lack of DNA evidence linking the defendants to the killing is irrelevant — that fact does not exclude them.
During her primary closing argument on Tuesday, Ms Achille played surveillance video from the motorcycle shop and elsewhere that she says backs up Allen's testimony.
She also played mobile phone videos the defendants allegedly took hours after the killing that showed them smiling and dancing as they flashed handfuls of 100 dollars bills.
The jurors deliberated for about an hour Wednesday before adjourning. They will resume on Thursday.
Boatwright, Williams and Newsome all face mandatory life sentences if convicted. Prosecutors did not seek the death penalty.
XXXTentacion, whose real name was Jahseh Onfroy, had just left Riva Motorsports in suburban Fort Lauderdale on June 18 2018 with a friend when his BMW was blocked by an SUV that swerved in front.
Surveillance video showed that two masked gunmen emerged and confronted the 20-year-old rapper at the driver's window, and one shot him repeatedly after a 45-second struggle.
They then grabbed a Louis Vuitton bag containing the 50,000 dollars, which XXXTentacion had just withdrawn from the bank. They then got back into the SUV and sped away. The friend was not harmed.
The rapper was a platinum-selling rising star who tackled issues including prejudice and depression in his songs. He also drew criticism over bad behaviour and multiple arrests, including charges that he severely beat and abused his girlfriend.