Elon Musk has said Twitter had "four months to live" when he bought the platform and insisted it needed to cut costs to save it from bankruptcy.
The billionaire owner confirmed that about 80% of its staff have been axed since he took over at the helm.
Asked whether his approach to sacking staff members was "haphazard and uncaring", Mr Musk replied: "I wouldn't say it was uncaring.
"The issue is, the company is going to go bankrupt if we do not cut costs immediately.
"This is not a caring, uncaring situation. If the whole ship sinks, then nobody's got a job."
There was a 3 billion US dollar "negative cash flow situation", he said, which left Twitter with "four months to live".
As a result, thousands of employees across the business have been sacked since he bought the platform for 44 billion US dollars (£35.7 billion) in October.
There are now around 1,500 staff members, from just under 8,000 when Mr Musk took over, the boss confirmed.
It also led to concerns that the platform could struggle to survive with the reduced maintenance team and available engineers.
Mr Musk admitted on Wednesday that shutting down one of Twitter's service centres had ended up being "quite catastrophic" as it resulted in the platform losing a large amount of its functionality.
But he said that Twitter was now "roughly breaking even" and could be profitable again soon.
He added: "Depending on how things go, if current trends continue, I think we could be profitable, or to be more precise, cash flow positive this quarter if things keep going well.
"I think almost all advertisers have come back or said they are going to come back. There's very few exceptions."
https://mobile.twitter.com/elonmusk/status/1646055951819223040
Following his takeover of the platform, many advertisers paused work with the site over concerns about Mr Musk's approach to content and moderation.
He also revealed legacy blue checkmarks will finally be removed by next week.
Mr Musk said last month that legacy-verified Twitter users would see their blue ticks removed from the service on April 1, unless they paid a monthly fee of 8 US dollars (£6.40) to its Twitter Blue subscription operation.
As a result, thousands of the platform's high-profile users were braced to lose the ticks, which can help verify their identity and distinguish them from imposters.
But the legacy blue ticks have remained in place past the original deadline of April 1.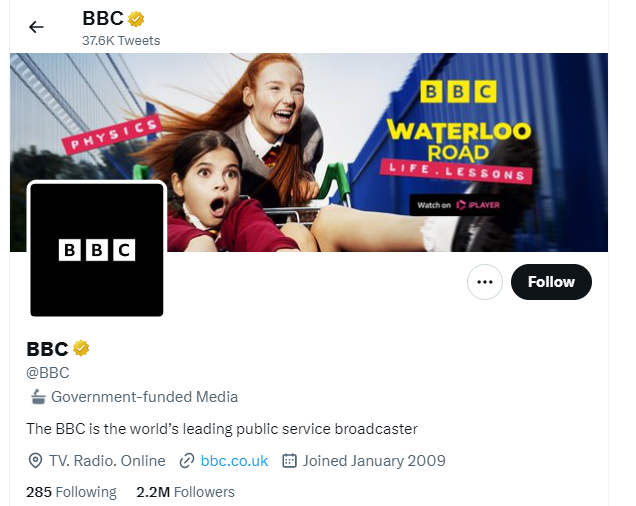 The BBC contacted Twitter last week after the designation was attached to the main @BBC account.
The label on the BBC's official Twitter account has now been changed to "publicly funded media" after the broadcaster objected to the previous government association.