Pep Guardiola says a week in which Manchester City can reach the Champions League final and win the Premier League again is a "dream come true".
Arsenal's 3-0 defeat at home to Brighton following City's victory by the same scoreline at Everton means Guardiola's side can clinch a fifth title in six seasons next weekend.
But before that City will have to get past holders Real Madrid in a home semi-final second leg to maintain their quest for a first Champions League triumph, with the tie level at 1-1.
"It is a dream come true being here, honestly," said Guardiola, whose side also have an FA Cup final against Manchester United to look forward to next month.
"I know at the end we maybe don't get all the trophies, people say we are a not good team, a 'failure' team, but it is a dream come true being here.
"We are the only team in Europe fighting for all the competitions: the FA Cup final with Manchester United and still it is not over, the Premier League never ends, we know that from the past with Liverpool.
"(We have) the semi-final at home with our people, second leg trying to reach the final of the Champions League.
"Where we have come from previous seasons is an extraordinary season and hopefully we can finish well."
But they will be confirmed as champions even sooner if Arsenal are defeated at relegation-battling Nottingham Forest on Saturday evening.
Guardiola is taking nothing for granted but knows the win at Everton, after their draw in the Bernabeu, was key in keeping the Gunners out of reach.
Everton went into the game on the back of an impressive 5-1 win at high-flying Brighton but a brace from Ilkay Gundogan either side of Erling Haaland's 36th league goal of the season secured the points for City at Goodison Park.
"When I see Chelsea and Brighton (City's next two matches) we have a lot of work to do," Guardiola added.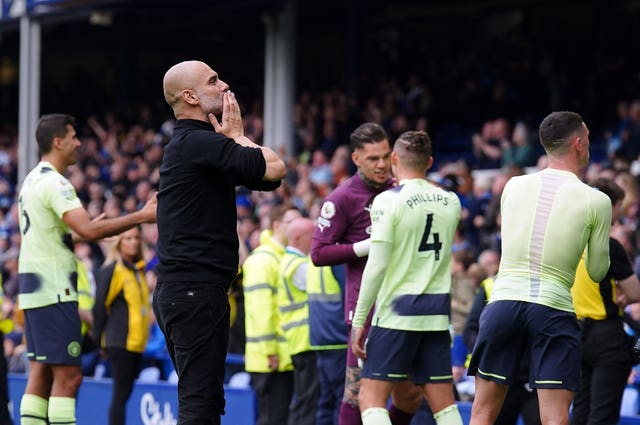 "I was really impressed by the way Everton handled the game against Brighton but from the first minute we controlled the game, except certain transitions.
"They are the best in the Premier League from every free-kick and corner since Sean Dyche went in there, it is almost a goal every time. Arsenal lost here for one corner, so it happens.
"We had the patience and momentum and movements from Riyad (Mahrez) and Phil (Foden) was really good in behind. We scored the goals in the right moment.
"It was so important and nice to to celebrate with our fans away because they are always with us."