Crystal Palace manager Roy Hodgson will meet Bournemouth boss Gary O'Neil for the first time at Selhurst Park on Saturday – but revealed the two nearly crossed paths years ago at Craven Cottage.
O'Neil, 39, played for nine different clubs during his senior career and hung up his boots in 2019 before joining Liverpool as under-23 assistant manager the following year.
Hodgson, 75, recalled being so impressed by O'Neil that at one point the midfielder was seen as a potential Fulham target.
"I remember him well as a player, and he was even on our radar several times at Fulham as a potential signing, so I should be pleased to meet him for the first time on Saturday."
Hodgson's 12th-placed side are now mathematically safe and will be playing Premier League football again next season, while O'Neil's Cherries are a point away from doing the same.
In a season marked by the most manager sackings in top-flight history alongside one of the most unpredictable relegation battles in recent memory, O'Neil's campaign feels like an anomaly.
Initially hired on an interim basis following the departure of Scott Parker – who previously expressed a lack of faith in Bournemouth's Premier League calibre – O'Neil was handed the permanent position after a impressive 11 game-run that saw his side go unbeaten in his first six.
Like Palace, Bournemouth found themselves embedded in the relegation conversation earlier this year, but unlike ex-Eagles boss Patrick Vieira – and multiple other managers now looking for work – O'Neil was able to sustain his employers' confidence.
The first-time Premier League boss, who was born in the same neighbourhood where Palace train, rewarded that faith by steering the Cherries out of the drop zone and into 14th, nine points clear of the relegation zone with three games remaining.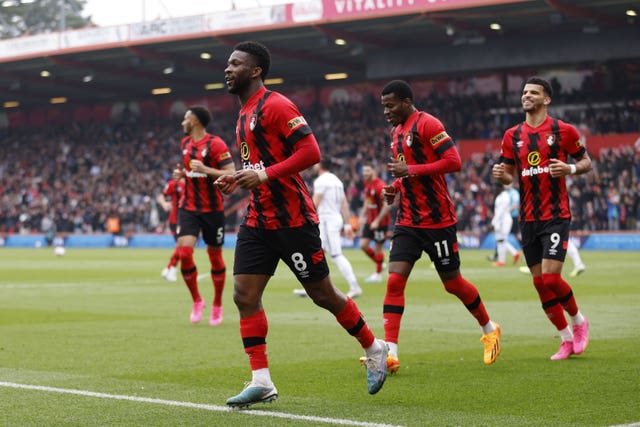 Hodgson said: "It's a fantastic achievement. There's no question about it. I think everyone in football recognises the difficulty of the task that Gary's had and really appreciates and respects the enormous job he's done in confronting that task.
"I'm certain that the people of Bournemouth Football Club must be absolutely delighted with him. He seems to have got a good relationship with the players on the field, they're definitely doing what he is asking of them."