Former England and Harlequins prop Shaunagh Brown admitted that last year's World Cup loss against New Zealand was "gutting" but is hopeful that rugby can attract new audiences.
Despite being a player down and leading for most of the final, the Red Roses fell to a heart-breaking 34-31 defeat against the Black Ferns, with Ayesha Leti-I'iga scoring the winning try.
Now retired from the sport, Brown was one of the members of that World Cup squad and she admitted the loss was initially difficult to take.
The 33-year-old told the PA news agency: "It was gutting, as soon as that final whistle went I just looked around and thought 'just get me home right now, I want to be teleported home – there's no need for me to be here, there's no need for me to be in this country anymore, we've done our job – we lost – just get me home now'.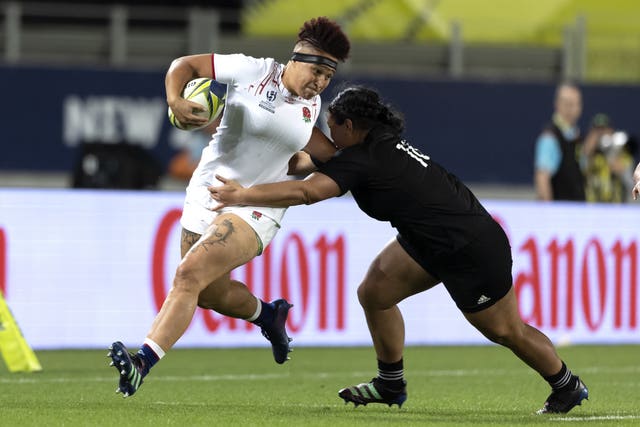 "You're like 'why?', it was literally for nothing – which is a massive over-exaggeration because then you get home and you hear about people who have got up to watch it, they had watch parties, you had pubs opening up at 5 o'clock in the morning and just having so much impact."
England's attention swiftly shifted to this year's Six Nations tournament, where they are looking to defend their title and are so far two wins from two going into Saturday's clash against Wales.
The Roses have so far played home games at Newcastle and Northampton and they will finish the competition against France at Twickenham, which is hoped will beat the 42,579 attendance at last year's World Cup final at Eden Park.
Brown added: "Just taking rugby to people as well, because not everyone can get to south west London for a couple of hours of rugby and then go home again without spending a small fortune to transport your whole family down from any further north than the Watford Gap.
"So it's just getting people watching and those who want to watch, sometimes take it to them and that's where the growth is going to come."
Having trained as a firefighter and previously competed at the 2014 Commonwealth Games in the hammer, Brown only started playing rugby at the age of 25, making her England Test debut against Canada in 2017.
Although she finished her international rugby career with that World Cup defeat, she still found competing in the tournament a career highlight.
She said: "The highlight of my England career would certainly be playing in a World Cup final and getting the chance to play because even growing up, my first goal was to play in a World Cup.
"Then not playing in those first couple of games, it hurts, you worked yourself up to become the best you can be physically and pretty much to be told you're not good enough by not being picked, but then getting to play in the last three games, that was a special bit.
"You're just like 'well I've just played in a World Cup final in front of over 42,000 people' and yes we lost and that was a very hard thing to take.
"As well, I'm still just a mixed race kid from a single parent home in a council house in Peckham and I've been playing the World Cup final in New Zealand.
"It was just like 'wow, I've done alright with my life'."
::Shaunagh Brown is an ambassador for Wooden Spoon, the children's charity of rugby who fund life-changing projects to support vulnerable children and young people across the UK and Ireland.