Eddie Howe hailed Newcastle's stars for a deserved victory against meek Manchester United, whose players held an open and frank discussion after what Luke Shaw called an "unacceptable" display.
Sunday's clash in the race for the top four lived up to the billing at St James' Park as Joe Willock and substitute Callum Wilson secured the hosts a memorable 2-0 win.
Newcastle climbed above their opponents into third with a victory that saw Howe's men gain a measure of revenge for February's Carabao Cup final defeat at Wembley.
"Really good feeling," Newcastle boss Howe said. "I thought we fully deserved the win. Really good performance from the team.
"I felt we prepared really well. What I mean by that is how well the players have trained during the international break, been really pleased with what they've delivered.
"When you see that behind the scenes you hope for a performance that matches what the players have given and I thought we got that today.
"We had to be patient, we created a number of chances we didn't take but delighted with the two we did get.
"I know a lot of people will make a lot out of (the final).
"It wasn't on our mind today. It was about winning the game that we needed to win in the league."
Howe attempted to brush aside talk about Champions League qualification in the press conference, which he ended by saying "we can't let this be the high of our season".
But he was more forthcoming when Ten Hag's comments suggesting Newcastle waste time were put to him.
"I'm pleased you brought that up actually because I want to make something very clear: we want the ball in play," Howe said.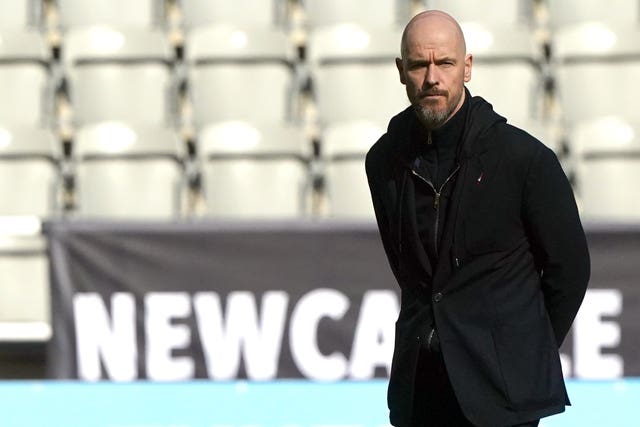 "And you saw today we wanted the ball back in play as quickly as possible. High energy, high tempo, ball in play."
This was just Manchester United's second loss in 17 matches in all competitions, but that disguises their drop off in the Premier League.
Ten Hag's men have only won three of their last nine league games and left-back Shaw did not hold back after the match.
"Newcastle are a very good side but I don't think they won the game on quality today," he told Sky Sports. "I think they won it on passion, hunger, desire, attitude and they clearly had that higher motivation than we (had).
"That can't be possible. I feel like I say the same things every time we lose. It's not acceptable and we know that. It was massive game today and they wanted it more and at Man United that cannot be possible."
United full-back Shaw said it was "unacceptable" but admitted a loss like this had perhaps "been coming" as levels had dropped before the international break.
"The players had a chat in the changing room after with no staff around because ultimately it's down to us as players on that pitch," he said.
"It was nowhere near good enough and we had to speak, we had to speak out in front of each other and own up to it."
When Shaw's comments about Newcastle wanting it more were put to Ten Hag in the post-match press conference, he said: "I totally agree and that was also my assessment of this game.
"I was surprised that we couldn't match the determination, passion and desire of the opponent.
"You know before you travel to St James' Park, to Newcastle what will be going on, especially after the cup.
"So, if you want to win big games, you have to be mature and I didn't see that today on the pitch."