Pep Guardiola insists he does not need to remind Kyle Walker of his responsibilities following allegations about his off-field behaviour this week.
Manchester City and England right-back Walker is being investigated by police after allegedly exposing himself in a bar.
City manager Guardiola has spoken to the 32-year-old about the matter but does not feel he needs to clarify what he should and should not be doing.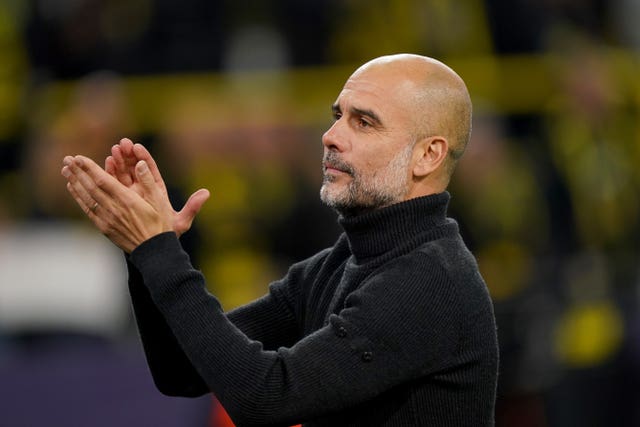 "I don't have tell you, 'Oh you have to behave in that way.' Come on, he's an adult and that's all."
Guardiola would not comment specifically on the incident, which is alleged to have taken place during a two-day break after City's Premier League victory over Newcastle last Saturday.
It came to prominence after a newspaper published security camera footage from the Wilmslow bar on Wednesday.
Guardiola said: "(It is a) private issue. We solved it internally, speaking with him. Of course this is not the place to discuss private situations."
Walker's representatives have declined to comment but it is understood the player contests the allegations and has reported for training as normal this week.
Guardiola has confirmed Walker will be available for selection for the champions' Premier League game at Crystal Palace on Saturday.
Guardiola feels his players should assume they are constantly being watched, and potentially being filmed, whenever they are in public places.
He said: "Everybody knows that the only place I think you are safe is inside, at home – lock the door. The moment you unlock the door you are exposed.
"It's completely different from 15 or 20 years ago. Then, for football players or managers, it was completely different.
"It's not only happened recently. The players know it. We have to adapt to the reality. There are cameras and phones everywhere.
"Today we are exposed 24 hours for everything. We'd prefer not to live in that way but it is what it is.
"Everybody knows it – our job, the media attention, everybody's careers – the private life doesn't exist anymore out of your home."
Guardiola accepts living in such circumstances can be difficult and he feels he and the club have a duty of care to players over that matter.
"Of course not just with Kyle, with everyone, I'm there, the club is there, all the time. Everyone has to feel it.
"When we are here inside I like to feel they can count on us in the good and bad moments."