Liverpool manager Jurgen Klopp admits he has not missed facing a competitive Manchester United side but, while he respects counterpart Erik ten Hag's Old Trafford revolution, he "couldn't be less interested" in their achievements.
United arrive at Anfield on Sunday looking to do the double over their arch-rivals for the first time since January 2016, which was Klopp's first encounter with them.
And after last season's 9-0 aggregate win for Liverpool, the tables have turned slightly, with United now in the ascendency and the 23 points amassed post-World Cup the most of any team in the competition, having lost just three of their last 22 league matches and won the Carabao Cup.
Klopp's side, by contrast, have been struggling all campaign, and while they have steadied the ship with three wins and a draw in their last four league games, third-placed United still have the edge over them heading into the fixture.
"Great, United's doing well. I didn't miss them," said a laughing Klopp as he punched the air.
"I can imagine how annoying it was for the last few years when we were there and everyone was talking about 'Klopp did this and Klopp is doing that. Outstanding. And they are bringing in young players'. It is really 'ugh' (sticking his fingers down his throat).
"They deserve it, they deserve where they are. They won the points, they played good football like all the others as well.
"This is not where we are this year but we were there the last few years and we want to go there again, 100 percent.
"But apart from that I couldn't be less interested in what they are doing. I just respect what they do and then I analyse it.
"We have our own targets and, yes, it would be a boost (for our top-four chances), 100 percent, but we have to make sure we really show that it is still incredibly difficult to play against us.
"When we played there (in a 2-1 defeat in August) it looked incredibly difficult to play against them, but we have to make sure they realise again it is not a joy to face us."
The long-standing rivalry between England's two most successful clubs means the fixture will always have an edge – "It is THE game" according to Klopp – whatever their respective league positions.
But that animosity aside, the Liverpool manager was still able to praise United forward Marcus Rashford for the way he has bounced back from looking like he had no future at Old Trafford after a poor couple of seasons.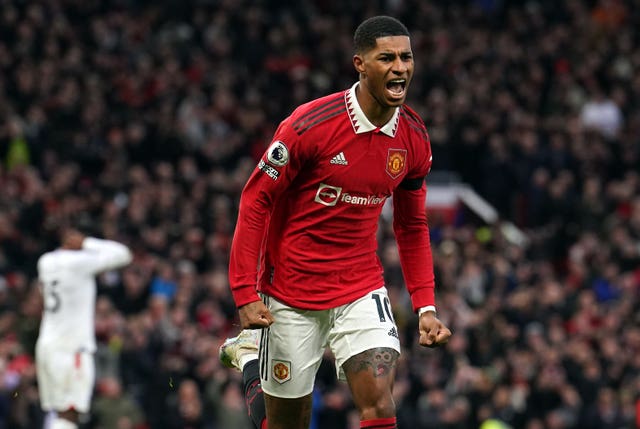 "It is not as if I watch them and hope they win or whatever, but I am really happy for Rashford.
"He had a really difficult last year when he was obviously not performing at the level he is able to perform, and I knew this will change again, but sometimes in life you don't have enough time to change it.
"But here he is and now he is playing incredible; his speed, his technique, the mix up of everything, how calm he is in front of goal. He scores worldies, he scores the simple ones, he is there, he puts his head in.
"We played before against world-class offensive players and if you try to do that in a one-on-one situation, you will be on the wrong end of it so we have to defend it collectively."
Klopp is still without centre-back Joe Gomez, midfielder Thiago Alcantara (hip) and forward Luis Diaz (knee), and is likely to freshen up his midfield having played teenagers Stefan Bajcetic and Harvey Elliott either side of Fabinho in the midweek win over Wolves.