Sheffield United midfielder Tommy Doyle is dreaming of emulating his famous grandfathers by playing at Wembley.
Doyle helped the Blades beat Tottenham 1-0 in the FA Cup fifth round on Wednesday night, a result which puts them one win away from a semi-final at the national stadium.
The Manchester City loanee has watched video footage of his paternal grandfather Mike Doyle and maternal grandfather Glyn Pardoe playing at Wembley for City in the late 1960s and 1970s.
Mike Doyle, who is third on City's all-time list of appearances with 570, and Pardoe, the club's youngest ever player at just 15, played together in the 1969 FA Cup final and the 1970 League Cup final – a game in which they both scored.
The 21-year-old is desperate to follow in their footsteps, with just a home quarter-final with Blackburn standing in their way.
"You dream of it. Everyone says that but growing up, you do," he said. "You watch games at Wembley and I have had the pleasure of seeing my grandads play at Wembley as well so that is even more of an incentive for me to do it myself.
"Massive and exciting more than anything. A game of football and we win it and we go to Wembley so it is really exciting."
The Blades' third FA Cup quarter-final in four years is supplementing their Sky Bet Championship promotion push, which is where boss Paul Heckingbottom's priorities lie.
He made eight changes for the victory over hapless Spurs, but Doyle still expected his side to win.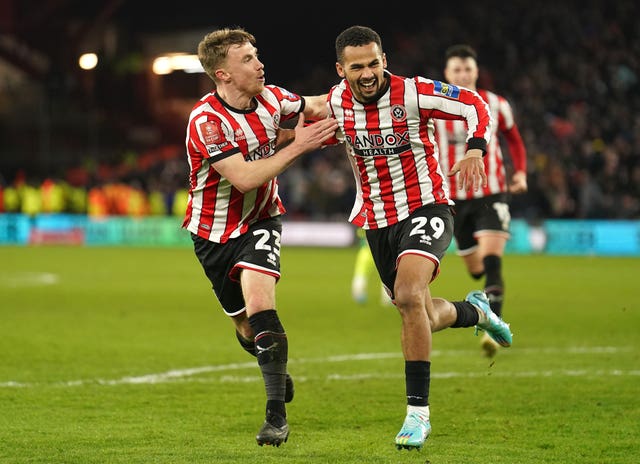 "Obviously everyone is really happy in the dressing room as you can imagine. I think we can enjoy it and then we have to focus on the weekend. It's another big game so you can't really think too much.
"We wanted to win the game, we prepared to win the game and I expected us to win. That is the confidence I have in the lads and I think we performed really well.
"We just felt comfortable, we were aggressive off the ball and on the ball we played great passes and were calm and composed. It felt brilliant out there."
It was a familiar story for Tottenham, who lost to second-tier opposition for the second season in a row as they saw a realistic chance of ending their 15-year trophy drought go up in smoke.
They have an important period coming up in the Premier League and Champions League and assistant head coach Cristian Stellini, again filling in for the absent Antonio Conte, is expecting a reaction.
"The last two or three performances were really high intensity but when you have this type of performance I hope it will be easy to explain to the players what we need to do," he said.
"Normally our team react after a game like this. It's not the first time it happened and we have to react immediately. Saturday we have an important game and Wednesday another one and we continue."