A hearing examining allegations of racism from former Yorkshire player Azeem Rafiq has begun in London.
The first part of proceedings before the independent Cricket Discipline Commission panel was private, but the 'public' section was opened at 11.45am by CDC chair and former Derbyshire batter Tim O'Gorman, with a live stream broadcast to accredited journalists inside the London location.
The 32-year-old Rafiq first went public in 2020 to allege he had been the victim of racial harassment and bullying across two spells at Yorkshire.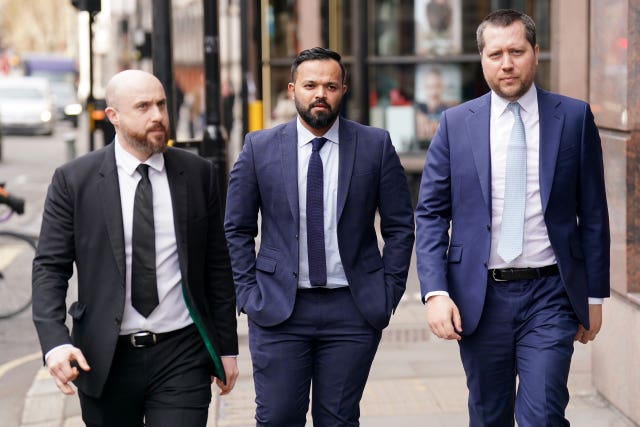 Former England captain Michael Vaughan is the only one of those charged who is set to appear at the hearing and his solicitors were present. It was confirmed that the case against Vaughan will begin on Thursday.
One of the individuals – Gary Ballance – has already admitted a charge related to the use of racially discriminatory language.
The remaining five – John Blain, Tim Bresnan, Andrew Gale, Matthew Hoggard and Richard Pyrah – have said they will not attend. The ECB has previously said the charges against those individuals will be considered by the panel in their absence.
The ECB's lawyer laid out the charges against Yorkshire and the allegations against Ballance.
Jane Mulcahy KC said the purpose of the hearing was to find out whether, "on the balance of probabilities, the conduct in question occurred".
"Was it racist or discriminatory?" she said, and "prejudicial to the game of cricket?".
Mulcahy then said the non-attendees had "denied themselves the opportunity to challenge Rafiq's allegations".
The ECB said last month the admitted charges included "a failure to address systemic use of racist and/or discriminatory language over a prolonged period and a failure to take adequate action in respect of allegations of racist and/or discriminatory behaviour".
The club said last week that another of the charges they had admitted related to the deletion and destruction of electronic and paper documents prior to current chair Lord Kamlesh Patel taking over in November 2021.
The county's previous leadership had faced widespread criticism of their handling of Rafiq's case, with the ECB at one stage removing Yorkshire's right to host lucrative international matches until governance changes were made.
Rafiq alleges Vaughan told him and a group of Yorkshire team-mates of Asian ethnicity there were "too many of you lot, we need to do something about it" at a match in 2009.
Vaughan categorically denies the allegation, but Rafiq's claim has been corroborated by current Yorkshire and England player Adil Rashid and former Pakistan player Rana Naved-ul-Hasan.
Rashid is set to appear as a witness in the hearing via video link.
Decisions on liability are expected to be reserved until a later date, after March 9.