Warren Gatland is confident Wales' clash with England on Saturday will go ahead and hopes the dispute between his players and the Welsh Rugby Union will be resolved on Tuesday.
Wales' players have threatened to go on strike over a contract dispute, placing the Guinness Six Nations showdown in Cardiff in doubt.
When asked if he was confident it would go ahead, Gatland said: "Absolutely, yeah. I'm hearing positive things from both sides.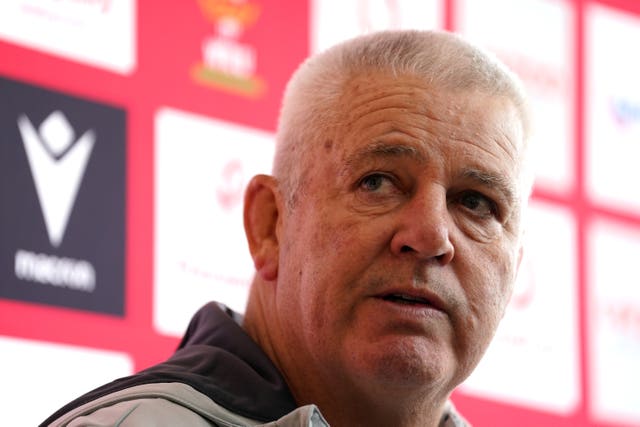 Gatland has postponed Wales' team announcement – which was due at lunchtime on Tuesday – until Thursday because of the stand-off.
When asked if he had been given assurances the round three match at the Principality Stadium would take place, Gatland replied: "Not at the moment."
Talks between negotiators of a new six-year financial agreement – the Professional Rugby Board – and Welsh professional players had been due to take place on Wednesday.
Those contracts would guarantee a player only 80 per cent of their salary, with the remaining 20 per cent comprising bonuses, and is the players' major grievance.
No long-form agreement between the WRU and Wales' four professional regions – Cardiff, Dragons, Ospreys and Scarlets – has yet been agreed in writing, mean players whose contracts expire at the end of this season currently cannot be offered new deals.
Gatland insists the dispute could provide additional motivation as Wales look to claim their first win of the Six Nations after suffering comprehensive defeats in their opening two fixtures against Ireland and Scotland.
"Hopefully everyone will turn up on Thursday raring to go on Saturday. It's been a bit of a challenge but sometimes that galvanises people and brings them together," the New Zealander said.
"In fairness to the players, at training this morning they put their training heads on and trained well. We had a good week last week in terms of working the players incredibly hard and they responded well to that.
"There are big things going on, we're aware of that, but we're pleased with how they've trained.
"Discussions are taking place today and hopefully the players will be happy with the outcome.
"Things will hopefully get resolved today and we can just focus on the game on Saturday."