Coach Andy Reid paid tribute to his quarterback Patrick Mahomes for pushing through the pain of an injury to lead the Kansas City Chiefs to their second Super Bowl victory in four years.
Mahomes was awarded his second Super Bowl MVP after his second-half comeback effort against the Philadelphia Eagles at State Farm Stadium in Glendale, Arizona.
"He's the MVP. That's all that needs to be said. MVP. And you saw it tonight," Reid told reporters on the field immediately after the game.
Mahomes' award and his side's victory were made more significant due to his ongoing struggles with a high-ankle sprain, though Reid had said during the week that the 27-year-old was moving well in practice and was ready for the  game.
He appeared to aggravate the injury again on Sunday after limping away from a tackle just as half-time closed in.
But the Texas Tech product not only suited up for the Chiefs in the second half – he somehow went to another level, scoring twice from throws in the fourth quarter and engineering the game-winning drive that set up Harrison Butker's 27-yard field goal with eight seconds left on the clock.
"I had a lot of soreness going through into half-time, (but) was able to move it around and kind of get taped up a little bit and go out there in that second half and it didn't feel good," Mahomes said during a press conference.
"But I was going to leave it all out there. And I'm glad it was enough for the win."
"M-V-Pat, you know what I mean," Kansas City tight end Travis Kelce said in his postgame on-field interview.
"You can't say how much he means to this team."
The victory was particularly significant for 64-year-old Reid, who was recruited by the Chiefs when he was sacked by the Eagles in 2012 after more than a decade in charge.
On Sunday evening he silenced speculation that he would retire at the end of the season.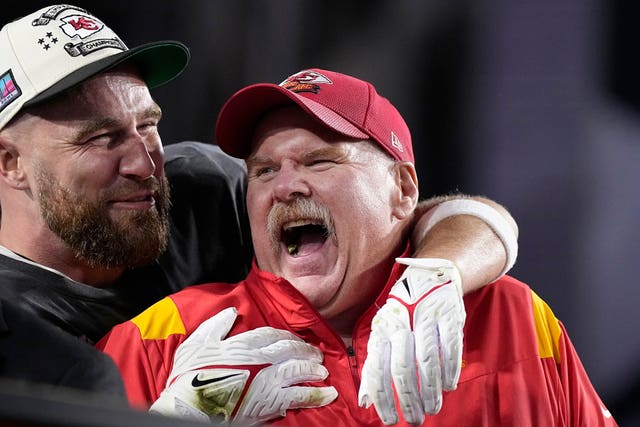 "My heart, though, is young. I still enjoy doing what I'm doing. I got asked that 50 times here. Finally I just go, 'Whatever, man. Whatever.'
"I'm good with what I'm doing right now… Listen, if they'll have me, I'll stick around."
One person glad about that was Kelce, whose older brother Jason plays centre in the Eagles' offensive line.
The 33-year-old said of Reid: "We wanted to get this so bad for him. His legacy in Philly lives on forever. The organisation loves him."
Kelce was tearful when he spoke at a press conference of the moment he encountered his brother on the field following the game.
"There's nothing you can really say to a loved one in any situation like that," he said.
"There's nothing I could really say to him other than I love him and he played a hell of a year, a hell of a season.
"You joke around all the time and say you want to beat your brother on the biggest stage ever, but it's a weird feeling."
The older Kelce told Philadelphia Inquirer reporter Jeff McLane he only had a brief message for Travis when the pair met postgame: "F*** you, congratulations."