Reigning Super League Man of Steel Brodie Croft says it was his "burning desire" to win silverware with Salford Red Devils that convinced him to commit his long-term future to the club this week.
The 25-year-old resisted the lure of returning home to Australia and signing a lucrative new eight-year deal believed to be the longest in the competition's history.
Croft, whose stunning performances swept Paul Rowley's men to an unexpected play-off semi-final place last season, told the PA news agency: "I truly believe in this group, and if I didn't believe they were capable of something special I wouldn't have signed."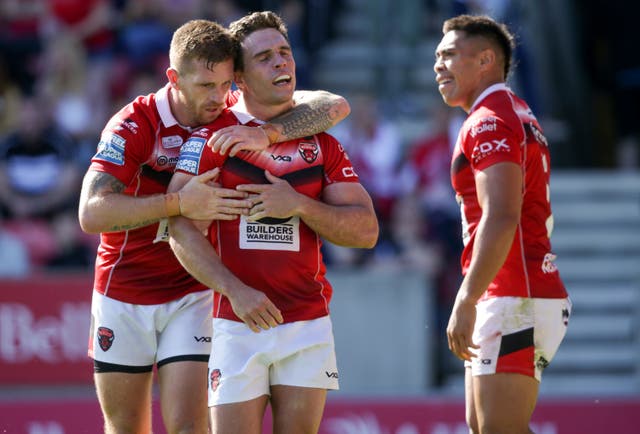 He added: "I went through every scenario before I signed the contract and it came down to the stability I can give my young family, the confidence the club has in me and the joy I get from going to work every day for these boys.
"The bottom line was the burning desire to see what Salford can offer going forward, I am excited to grow personally and collectively as a team, and to have some silverware to show for all our hard work."
Croft's headline-grabbing deal flew in the face of the emerging pre-season narrative of big name players, including Wigan duo John Bateman and Kai Pearce-Paul, sealing deals to move to Australia's relatively lucrative NRL.
And Croft added that he hopes his decision will not only convince young British talent to commit their future to Super League, but fellow Australians to make the reverse journey for the first time.
"If I can have a positive effect on convincing players to stay in or move to Super League then I'm happy to be a part of that.
"I like to think it might have some positive effect, especially at Salford who may be seen as one of the smaller clubs, but they have a big heart and I'm fortunate to be a part of that."
Head coach Rowley is undaunted by the prospect of the raised level of expectations surrounding his club this season and rejected suggestions that any repeat performance rests solely on the shoulders of Croft.
"We're not a one-man team – we lost games that Brodie played in last year and we won games too," said Rowley, speaking at the 2023 Super League launch in Manchester.
"It's great that people recognise that Brodie is a really important factor in the team, but Brodie is the first to recognise the influence that his team-mates also have on him.
"It is humbling that Brodie had options and he chose to stay with us. It just shows that we're a club that want to do the right thing and hopefully we can now build a team around Brodie and inspire a lot of young players too."