Katy Marchant will be launching "career 2.0" when she races at the European Championships this week in her first major event since becoming a mother.
The Rio bronze medallist feels ahead of schedule in her return after giving birth to son Arthur in June but is eager to tackle a challenge unlike any she has faced to this point in her career.
The women's sprint set-up Marchant is coming back to in the Great Britain team is barely recognisable from the one she stepped away from following the Tokyo Olympics.
Marchant, 30, had shouldered the burden of trying to cover for the team's shortfalls, particularly in the doomed attempt to qualify for the team sprint.
But if Marchant left what felt like an empty room after Tokyo, she has come back to a crowded one thanks to the emergence of a crop of young riders.
Sophie Capewell, Blaine Ridge-Davis, Milly Tanner and Lauren Bate – all 24 or under – laid down a marker with bronze at the 2021 World Championships. A year later, Capewell joined Emma Finucane, 20, and Lauren Bell, 19, to take bronze again.
Marchant – who took the national team sprint crown alongside Finucane and Tanner last weekend – must now find her place in the new squad, and also in a team sprint format expanded to three riders since Tokyo.
"It's weird, it's a different pressure and one I haven't felt before," Marchant told the PA news agency. "In the past it was pressure to get result and to perform. I'm still trying to perform and get results but it feels different – I'm not the one carrying the team…
"It's helping me to enjoy it more. And when you're enjoying it you can give everything."
Had things still looked the same as they did before Tokyo, Marchant may not have returned at all.
"My theory going into Tokyo was I couldn't carry on carrying the team, and unless something changed or I could change how I felt I wouldn't be able to carry on," she added.
"But the fact that there's really strong depth of goal at the minute, I wanted to be part of that. I think it's always something I craved – being part of a group and having that daily competition and competition in training.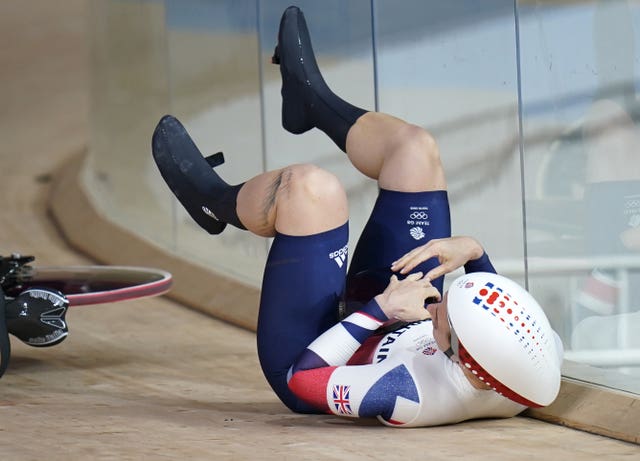 Marchant's desire to come back needed to be at 100 per cent to make it worth the sacrifice of leaving Arthur at home when she goes on training camps and to races.
The European Championships get under way in Grenchen, Switzerland on Wednesday and run until Sunday, and this will be Marchant's longest period separated from Arthur yet.
"I'm very fortunate my husband is a farmer and works on his own family farm, so it's been a lot of Daddy Daycare," Marchant said. "He's always been my number one supporter and he's supported me on this as well, and we've got grandparents on both sides offering to help.
"This will be the longest stretch I've been away but it's the job at hand. We spoke about potentially bringing him with Robert flying out, but that would be for selfish reasons.
"If Robert's got him on his own it's easier if he's at home. I'll take the hit. I'm going to work."