The Barbarians jersey worn by Sir Gareth Edwards when he scored rugby union's widely-acclaimed greatest try is to be sold at auction – and it could set a world record.
Edwards finished off a spectacular seven-man move started by a side-steeping Phil Bennett deep inside his own half during the Barbarians' 23-11 victory over New Zealand 50 years ago.
And Edwards' black and white-hooped number nine shirt from that day in Cardiff is the centre-piece of his jersey collection that will go under the hammer of Penarth-based Rogers Jones Auctioneers and Valuers next month.
The item, which has an estimate of £150,000-£200,000, has been kept in a box under Edwards' snooker table, having previously been gifted to his sons Owen and Rhys.
"I offered the shirts to our boys, but they weren't sure what to do with them," he said.
"That's when they decided to seek the help of Ben (auctioneer Ben Rogers Jones) to offer them to rugby collectors around the world who could give them a good home, and hopefully get some enjoyment out of them. I still have all the memories and the boys have all the caps (Edwards' playing caps).
"I have given away a number of my jerseys down the years, but those I have kept for swaps after matches or worn myself have been neatly tucked away in cardboard boxes in the snooker room. It's time they had a better home."
Dave Gallaher was captain of the "Original All Blacks" – the first New Zealand representative team to tour the British Isles – in 1905/06, when their only defeat in 35 games was a controversial 3-0 loss to Wales.
He was was killed during the First World War in 1917, aged 43, in the Battle of Passchendaele.
Gallaher's New Zealand jersey during that 05/06 trip was sold eight years ago for £180,000 by Rogers Jones.
It is currently the highest price paid at auction in the United Kingdom for an item of sporting clothing, and world record for a rugby jersey.
"Since then, we have sold many rugby jerseys, caps and an important rugby union rule book, and many of these rugby antiques have commanded thousands of pounds," auctioneer Ben Rogers Jones said.
"The highest prices have been for the match-worn jerseys where we are able to determine the player, and the match the jersey was played in.
"The more notorious the match, the more famous the player or famous the team then the higher the prices. Also, the age of the jersey can contribute hugely to the final price.
"Since then (Gallaher jersey auction), I have been asked whether I think another jersey will come close or exceed that. Sir Gareth Edwards' Barbarians jersey was my answer from the start.
"Our spines still tingle when we hear Cliff Morgan's legendary commentary (of Edwards' try), and all of us have those pangs of nostalgia.
"Sport is powerful, it stirs the emotions and we should never underestimate it."
Other lots include one of Edwards' British and Irish Lions jerseys from the 1974 South Africa tour, which has an estimate of £20,000-£25,000, various Wales shirts and jerseys from when he represented teams like a Combined England/Wales XV, East Wales and a President's XV.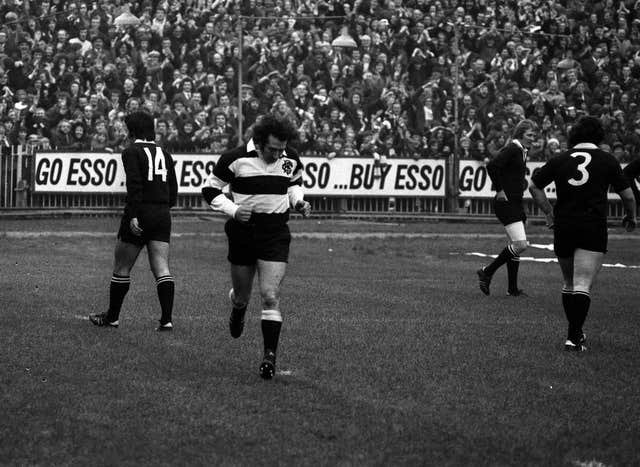 And outside of rugby, there are a collection of t-shirts worn by Edwards during the 1976 BBC Superstars competition, when he finished fourth in an event won by Olympic hurdler David Hemery.
Edwards' collection will go under the hammer at Cardiff Auction House on Friday, February 24.