Russia coach Stanislav Cherchesov insists he is comfortable with the level of scrutiny being directed at the World Cup hosts.
They kick off the tournament against Saudi Arabia on Thursday looking for their first win at the summer finals since their opening match of the 2002 event, against Tunisia.
The omens have not been good in the build-up as Russia have failed to win in seven non-competitive attempts since beating South Korea in October.
"Everybody should listen to critics, that's natural," he said at his pre-match press conference at the Luzhniki Stadium.
"We are under scrutiny and should react to it in a natural way. I feel comfortable about it.
"Praise is also a kind of criticism, right? We want public opinion about us to be better after the first match and will try to change it with our performance.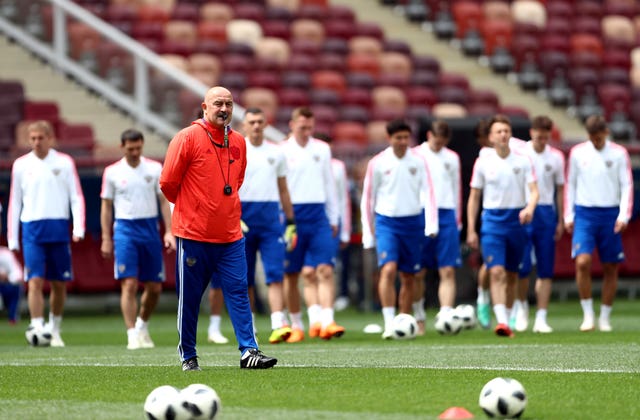 The hosts are 70th in the FIFA world rankings, three places below their opponents, but are expected to win their first international meeting with the Middle Eastern country.
It is pressure which Spartak Moscow midfielder Aleksandr Samedov insists they can handle.
"I already know what a World Cup is all about and how intense it is," said the 33-year-old, who did not make his international debut until he was 27 but played in all three of Russia's matches at Brazil 2014.
"I remember the previous World Cup, how nervous I was. That wasn't good, you need to be calm and psychologically stable. Now I feel much much better.
"I'm staying calm in my preparations because psychology is an important factor too, although the pressure is there.
"It's our home World Cup and we're kick-starting the tournament. The whole world will be watching us."
Saudi Arabia's long wait for a World Cup win – over Belgium – stretches back to 1994, although they have not qualified since 2006.
They come into the tournament having lost friendlies to Italy, Peru and holders Germany.
Captain Osama Hawsawi believes playing top-class opposition has helped their preparations, despite the results.
"We are happy to be a part of the opening of the most important event in the world," he told a press conference.
"In friendly matches we have shown a high level, with match against Germany (a 2-1 defeat last Friday) evidence to that, and the Saudi team is a strong competitor in Asia.
"Our ambition is to qualify for the later rounds."