Ronnie O'Sullivan believes his lifestyle is so good he could live to the age of 200 but he apologised on Sunday to Crucible fans for the "embarrassing" start to his latest world title bid.
With a sixth Betfred World Championship crown in his sights, O'Sullivan made a false start against Stephen Maguire in Sheffield but atoned by winning seven out of eight frames on Sunday to secure a 10-7 victory.
He had trailed 6-3 after Saturday's opening session, when Maguire felt his opponent was "there for the taking", but grasped a lifeline when the Glaswegian front-runner became jittery.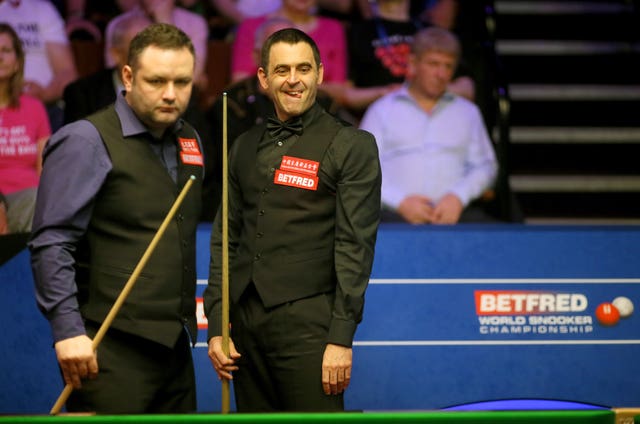 "It was so embarrassing and I felt like I wanted to give them all their money back. I was gutted," O'Sullivan said.
"They took a Saturday afternoon out to come and watch a bit of snooker. Thank God Stephen potted a few balls. I was missing balls all over the gaff.
"I was lucky to get through, and that's good for me and unlucky for Stephen."
Maguire squandered chance after chance to assert his dominance of the contest on Sunday, and an O'Sullivan victory began to look an inevitability long before he crossed the winning line.
O'Sullivan, 42, looks to have many years ahead of him in snooker, and he hopes to live a remarkably long life after dedicating himself to healthy living.
Teaming up with nutritionist Rhiannon Lambert, with whom he is writing a book, has given O'Sullivan a new outlook.
"I think I'm going to live until about 200 now, I feel so good," he said. "The way I'm feeling now is frightening. I feel better now than I ever have.
"The biggest thing for me this year has been how I've tackled how I eat. I'm amazed at how good I feel and how healthy I am.
"Compared to the average Briton I'll always look well. You look at the state of some of the humans in our country and they're massively obese, a bit like America really. I don't want to fall into that trap.
"I never thought I'd like celery but I'm eating so much of it now I'm going to look like a celery stick at the end of this tournament."
O'Sullivan goes on to face Graeme Dott or Ali Carter in the second round.
"He'll probably be thinking that he got out of jail there so he'll probably be more dangerous than he usually is," Maguire said.
"That match was there for the taking but he's finished me off in the end quite convincingly."
On the other table, Mark Allen moved 6-3 ahead of debutant Liam Highfield after their opening session, with that match concluding on Monday.