John Stones will miss Premier League leaders Manchester City's trip to his former club Everton this weekend.
The England defender will sit out after suffering a head injury in Tuesday's international friendly against Italy at Wembley.
The 23-year-old has now recovered from the blow, but will not be available on Saturday evening due to concussion protocols.
Manager Pep Guardiola said: "John Stones – a concussion in the last game of the international break. He feels really good but the rule is seven days off, so that's why he's not available."
Top scorer Sergio Aguero is also unlikely to be involved at Goodison Park as City look to claim a victory that would then enable them to secure the title against rivals Manchester United next week.
Aguero missed City's last outing against Stoke and Argentina's friendlies against Italy and Spain with a knee problem.
With the first leg of City's Champions League quarter-final against Liverpool coming next Wednesday, Guardiola is likely to err on the side of caution this weekend.
"He is much, much, much better," Guardiola said, but when asked if Aguero could feature at Everton the City boss gestured it was unlikely.
"We'll see tomorrow," Guardiola added.
Guardiola, speaking at a press conference, stressed the importance of retaining the services of Raheem Sterling, but was unwilling to discuss in detail reports the club are poised to open contract talks this summer.
Sterling, who has two years to run on his present deal, is enjoying the most prolific season of his career having struck 20 times for City.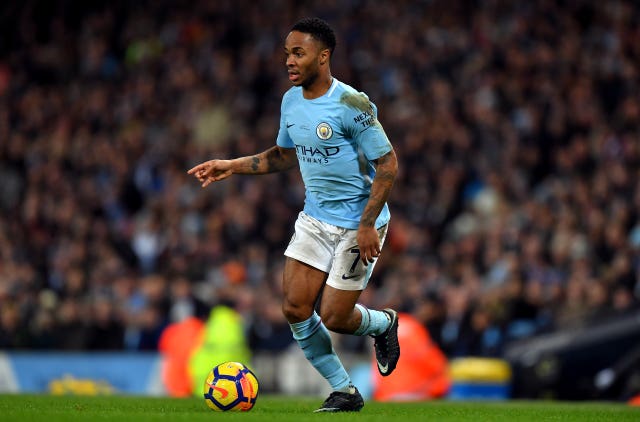 "But he knows how important he is to us."
City are 16 points clear at the top of the table and their crowning as champions seems inevitable.
Despite that, Guardiola insists his players will be fully focused on Everton, regardless of whether the two legs against Liverpool are now the real priority.
He said: "I'm not going to deny (there are thoughts about Liverpool), but, believe me, I am preparing for Everton like it's the most important game we have to play.
"My decisions (are made) to beat Everton, not thinking about Liverpool. That would be a big mistake from my side."
City were beaten 4-0 on their last visit to Goodison Park in January 2017, Guardiola's heaviest defeat in the Premier League.
He said: "I don't analyse what happened last season. Tomorrow is another game and you start 0-0 with the same conditions as the opponent."