Police are investigating crowd disorder after two arrests were made following Manchester City's controversial FA Cup defeat at Wigan on Monday.
Wigan are also to carry out their own "full investigation" after thousands of supporters spilled onto the pitch following the final whistle, with one becoming involved in a physical altercation with City striker Sergio Aguero.
TV footage of the chaos at the DW Stadium appeared to show Aguero raising his arm to push away the fan and later having to be restrained. It is understood Aguero claims he was spat at.
Police acted to restore order but two arrests were made on suspicion of affray following an incident outside the ground.
Chief Superintendent Stuart Ellison of Greater Manchester Police said: "Football is a family event and the disruption that players and fans alike faced last night will not be tolerated.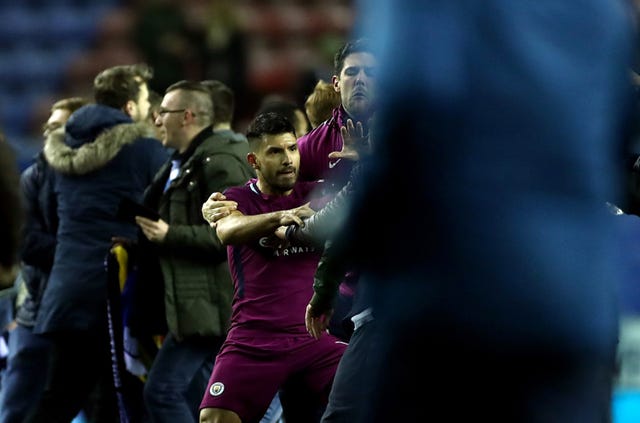 "Emotions always run high at football matches, and sometimes, this means that officers have to intervene to ensure the safety of the fans."
Police added in a statement that no injuries had been reported.
City have not commented but Press Association Sport understands the club consider what occurred unacceptable, particularly as the safety of players was potentially endangered. The club plan to speak to Wigan over the matter.
Chief executive Jonathan Jackson said: "Whilst we appreciate that the vast majority of supporters who ran on to the pitch did so spontaneously to celebrate a famous victory, we were disappointed with the action of a minority of supporters who acted in an inappropriate manner.
"Player and staff safety is of paramount importance and we will conduct a full investigation."
The Football Association is assessing what occurred and will take into consideration the report of referee Anthony Taylor and video footage before considering whether to open its own investigation.
The governing body could also look into a confrontation between City manager Pep Guardiola and his Wigan counterpart Paul Cook. The pair exchanged heated words after City's Fabian Delph was sent off late in the first half.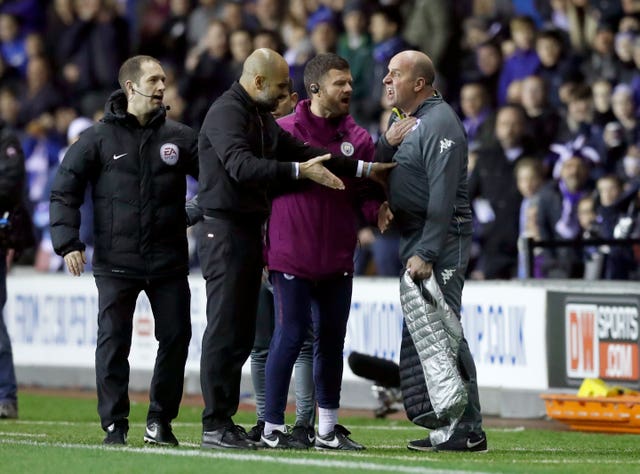 League One Wigan beat the runaway Premier League leaders 1-0 with a 79th-minute strike from Will Grigg.