The Premier League's record-breaking January transfer window is part of a trend that will soon see £2billion spent in a season, according to Deloitte.
The accountancy firm's analysis showed the 20 top-flight clubs spent £430m last month, almost double the previous record of £225m for a winter window.
Following on from a summer window which broke the record for any previous full season in English football, it took 2017-18 Premier League gross spending to £1.86bn.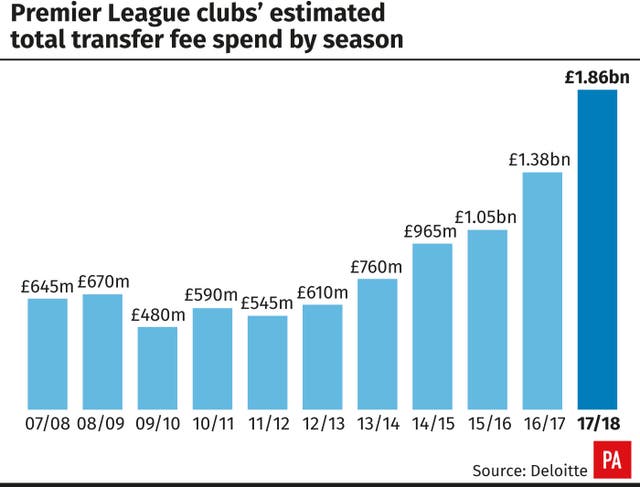 Dan Jones, a partner in Deloitte's Sports Business Group, told Press Association Sport: "Assuming the new TV deal delivers what people are expecting, I think we get to that £2bn at some point within that TV deal.
"We got to about £1.9bn this time so we're very close."
January 31 alone saw Premier League clubs complete deals totalling £150m, also a new record for the winter deadline.
Pierre-Emerick Aubameyang's £56m move to Arsenal was followed by the £18m sale of Olivier Giroud to Chelsea, while Tottenham splashed £25m on Lucas Moura from Paris St Germain and Andre Ayew made an £18m return to Swansea.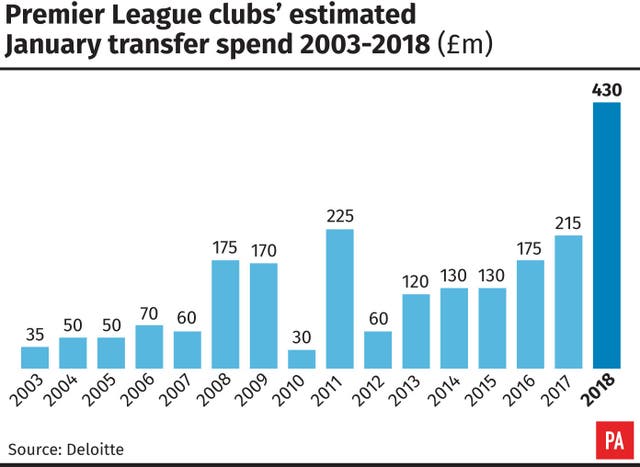 Jones added: "We tend to focus on the gross number, because it's something people are most familiar with and can compare over time, but the net's very relevant in this as well.
"They've spent £430m but they've got £340m back in – net, they've only spent £90m – and if you look at the net spending relative to their revenue over the 15 years the window's been going, it's not at a concerning level."
Liverpool got in early to line up the costliest deal of the month, signing Virgil van Dijk from Southampton for £75m and making it all but certain from the outset that the £225m record from 2011 would be eclipsed.
Jones said: "Compared to last year, when it was all about that bottom six spending to stay up, this year it's been all about the top six and people trying to secure their Champions League place.
"So a bit of a turnaround, a bit more similar to what we've seen in the last two summers with the top six driving the spending.
"We talked about £430m but you take Aubameyang, (Aymeric) Laporte, Van Dijk – between the three of them you're edging up towards half that number."
France defender Laporte was a £57m signing for Manchester City from Athletic Bilbao.
The £340m recouped by Premier League clubs was also a new January record, with Brazil midfielder Philippe Coutinho's move from Liverpool to Barcelona accounting for a significant percentage of that total.