Emotional tributes have been paid to Dame Tessa Jowell in Parliament, hours after her family spoke movingly of her "courageous and brave" final days.
Speaker John Bercow appeared to fight back tears as he hailed Dame Tessa as "the best of us" while leading the House of Commons in commemorating the former MP.
Theresa May praised Dame Tessa as a "most extraordinary politician, colleague and campaigner" and touched on her love of David Beckham.
Veteran Labour MP Harriet Harman, the Mother of the House, described Dame Tessa as "true Labour".
And Labour former minister Yvette Cooper branded her the "mother of Sure Start" and prompted laughter when recalling a story about how Dame Tessa ensured there were condoms for athletes at London 2012.
The tributes in the Commons came after Jessie Mills, Dame Tessa's daughter, spoke about her mother's final days before dying at the weekend from a brain tumour aged 70.
Ms Mills said it had been an "incredibly peaceful" time, with the former Labour cabinet minister surrounded by her family.
Speaking in the Commons, Prime Minister Mrs May said she met with Dame Tessa as she was confronting her illness and added her dignity and courage "were as humbling as they were inspirational".
Mrs May said Dame Tessa "refused to take no for answer" when others doubted that London should bid for the Olympics before touching on her sense of humour.
The PM said: "For many years after London won that Olympic bid, the screensaver on her phone was a photo of her and David Beckham after the announcement, hugging.
"As she said, you can be a feminist, but still be susceptible to a David Beckham moment."
Mrs May added that Dame Tessa fought to the end for everyone affected by cancer, noting: "Her legacy will live on."
For Labour, Mr Corbyn welcomed the cancer research fund set up in Dame Tessa's name as he said: "I hope we will all support that fund so that others don't suffer in the awful way that she suffered.
"She taught us how to live and I think she also taught us how to die."
The voice of Labour's Helen Hayes trembled as she paid tribute to her predecessor as MP for Dulwich and West Norwood, while party colleague Peter Kyle drew laughs when he relayed a story of Dame Tessa's meeting with then prime minister Tony Blair over the Olympics.
The Hove MP said: "She said at the end of the meeting she turned informally to him and said, 'Do you want to be the prime minister that had the Olympics within your grasp and chose to turn away?'
"That, for me, was Tessa because she had learned to weaponise the male ego and woe betide any big beast that stood between her and one of her political objectives."
Speaking earlier, Ms Mills told the BBC Radio 4 Today programme: "It is the greatest honour of my life to be her daughter. The way that she was until the last moment was just so courageous and brave.
"Just the day before she had her haemorrhage, her and dad were just walking down the beloved lane that we have outside our house.
"She was in the most wonderful spirits, smiling and laughing with dad and just having the most special time."
She said her family were with Dame Tessa "every single moment" in the last couple of days when she was "very, very, very ill", adding: "It was an incredibly peaceful time.
"Until the last moment she was the magnificent person, mother that we all know and just adore."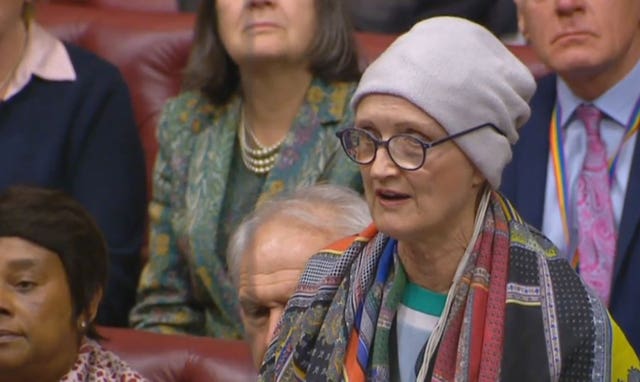 He welcomed the Government's announcement that it was doubling funding into brain cancer research in the wake of her death to £40 million over the next five years.
He told the Today programme she had an extraordinarily successful career in politics.
He noted how, after the disease struck her, "she added another 25% to it in what she has done to publicise the shortage of research for brain cancer and to give people hope they wouldn't have had".