A new deadline has been set for meeting smart motorway safety targets.
National Highways chief executive Nick Harris told MPs that the Government-owned company is aiming to meet "very challenging" performance specifications for stopped vehicle detection (SVD) technology by July.
SVD uses radars to detect vehicles stopped on all-lane running (ALR) smart motorways, which do not have a hard shoulder.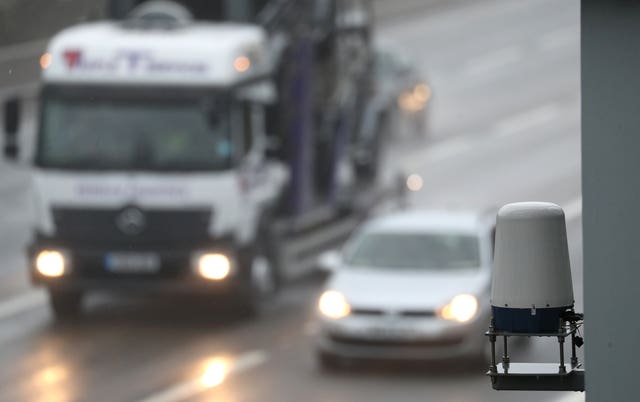 The average time it was taking to detect stopped vehicles in four out of five regions was longer than the target of 20 seconds, ranging from 43-65 seconds.
The amount of false alerts was also higher than expected, increasing the workload for operators receiving the notifications.
Giving evidence about SVD to the Transport Select Committee, Mr Harris said: "It is working and it is adding significantly to the tools that we have available to further improve road safety.
"I have a very, very closely-managed programme going on at the moment to ensure that the systems that we've already implemented – and we're ongoing with commissioning new ones – will achieve the performance specification later this year.
"I think we've set July as the target for that.
"But this is the largest implementation of this technology in the world.
"We're the first to be doing this. It's an important addition to road safety and we're very committed to getting it to that standard, but it is adding significantly to road safety at the moment."
Speaking after the evidence session, RAC road safety spokesman Simon Williams described SVD technology as "vital".
He noted that even when stopped vehicles are detected, the system relies on a member of National Highways' staff checking the carriageway and switching on a red X closed lane sign, while drivers must then see the signal and move to another lane.
Mr Williams said: "That's a lot of separate things that have to happen in order to help protect a driver who has broken down, all of which are only necessary because the decision was taken to remove hard shoulders in the first place.
"It's perhaps little wonder that 70% of drivers surveyed for the RAC Report on Motoring want to see all lane running smart motorways scrapped in favour of dynamic hard shoulder ones where the hard shoulder is only used as a running lane during busy periods."
Around 10% of England's motorway network is made up of smart motorways.
They involve various methods to manage the flow of traffic, such as converting the hard shoulder into a live running lane and variable speed limits.
ALR smart motorways boost capacity at a lower cost than widening roads.
There have been long-standing safety fears following fatal incidents in which vehicles stopped in live lanes were hit from behind, but National Highways insists the roads are safer than conventional motorways.
The Department for Transport halted the development of new ALR smart motorways in January 2022 until five years of safety data has been collected for schemes introduced before 2020.