Typhoon Koinu swept southern Taiwan on Thursday, leaving at least one dead and more than 300 injured as it brought intense winds and rainstorms to the island.
Taiwan's fire department said one person was killed by flying glass in the central city of Taichung and at least 304 were injured around the island.
Gusts of wind downed trees and caused damage to some buildings.
Koinu, which means puppy in Japanese, made landfall in Cape Eluanbi, the southernmost tip of Taiwan, early on Thursday and is expected to weaken as it continues to move west toward Guangdong and Fujian provinces in southern China.
The typhoon brought unexpectedly strong winds as it approached Taiwan, with a gust of 213 mph recorded on Wednesday night on the outlying Orchid Island.
On Thursday morning, Koinu packed maximum sustained winds of 101 mph with gusts of 123 mph, according to the weather bureau.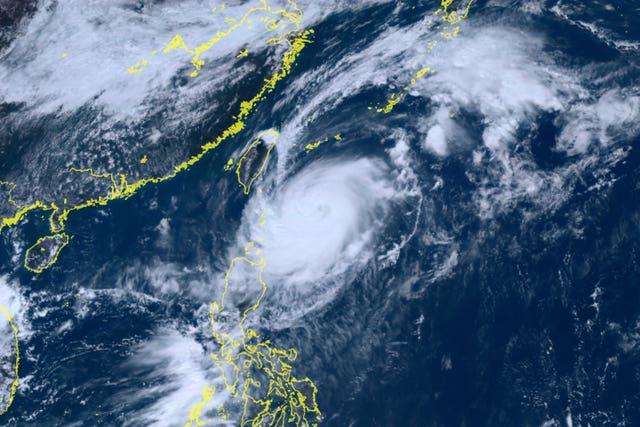 Most domestic flights and dozens of international flights were cancelled on Thursday, according to the transportation ministry, while ferries to outlying islands were also suspended.
Taiwan sits in an active region for tropical cyclones, but Koinu is only the second typhoon to make landfall in four years. Typhoon Haikui hit the island in early September, injuring dozens.