An extremist Israeli Cabinet minister visited a sensitive Jerusalem holy site on Sunday at a time of heightened tensions with the Palestinians.
The visit by national security minister Itamar Ben-Gvir, his second known visit since becoming a member of Israel's most right-leaning government ever, drew condemnations from the Palestinians and Israel's neighbour Jordan, which acts as the custodian of the site.
Neighbouring Egypt, which has a peace treaty with Israel, also issued a condemnation.
"I am happy to come up to the Temple Mount, the most important place for the Israeli people," Mr Ben-Gvir said during his early morning visit to the site, with the golden Dome of the Rock in the background, according to video released by his office.
Palestinian presidential spokesman Nabil Abu Rudeineh called Mr Ben-Gvir's visit a "blatant attack" on the mosque.
Jordan's Foreign Ministry called it "a provocative step that is condemned, and a dangerous and unacceptable escalation".
The visit comes days after Israelis marked Jerusalem Day, which celebrates Israel's capturing of east Jerusalem in the 1967 Mideast war.
Flag-waving nationalists marched through the main Palestinian thoroughfare in Jerusalem's Old City, some singing racist anti-Arab chants, while hundreds of Jews visited the sensitive hilltop shrine, including a low-level minister from Mr Ben-Gvir's party, but not Ben-Gvir himself.
Later on Sunday, Prime Minister Benjamin Netanyahu's Cabinet is expected to hold a special session to mark the occasion near the Western Wall, the holiest site where Jews can pray and a remaining exterior wall of the biblical Temples.
Known to Jews as the Temple Mount, the hilltop site is the holiest in Judaism and home to the ancient biblical Temples. Today, it houses the Al-Aqsa Mosque, the third-holiest site in Islam.
Since Israel captured the site in 1967, Jews have been allowed to visit but not pray there.
The ultranationalist Mr Ben-Gvir, along with a growing movement of activists, has long called for greater Jewish access to the holy site.
Palestinians consider the mosque a national symbol and view such visits as provocative and as a potential precursor to Israel seizing control over the compound. Most rabbis forbid Jews from praying at the site, but there has been a growing movement in recent years of Jews who support worship there.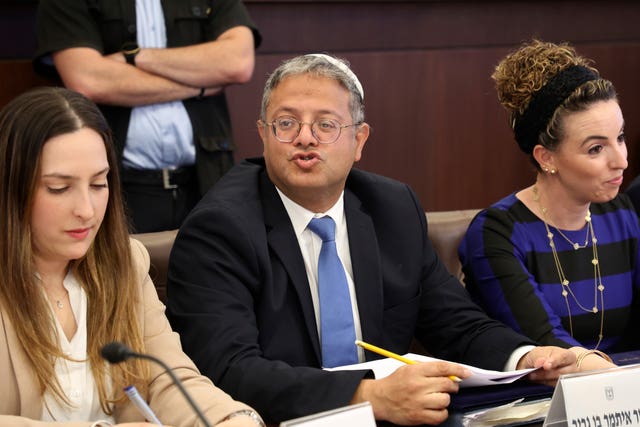 More than 250 Palestinians have been killed by Israeli fire since the spring of 2022. About 50 people have been killed in Palestinian attacks against Israelis.
Israel says most of the Palestinians killed were militants, but stone throwing youths protesting the incursions and people not involved in the confrontations have also been killed.
Earlier this month, fighting also erupted between Israel and militants in the Gaza Strip. Israeli strikes killed 33, many of them militants but also women and children, and two people were killed in Israel by militant rocket fire.