Bangladesh and Myanmar braced on Sunday as a severe cyclone started to hit coastal areas and authorities urged thousands of people in both countries to seek shelter.
The outermost band of Cyclone Mocha, with winds of 180-190 kph (112-118 mph), and gusts of up to 210 kph (130 mph) per hour, reached the coast of Myanmar's Rakhine state on Sunday morning.
By afternoon, the centre of the storm was expected to make landfall near Sittwe township, which was under the highest weather alert, Myanmar's Meteorological Department said.
More than 4,000 of Sittwe's 300,000 residents have been evacuated to other cities since Friday and more than 20,000 people are sheltering in sturdy buildings such as monasteries, pagodas and schools located on the city's highlands, said Tin Nyein Oo, who is helping people in shelters in Sittwe.
Many local people live in areas more than three metres above sea level, where residents believe the storm surge cannot reach, he added.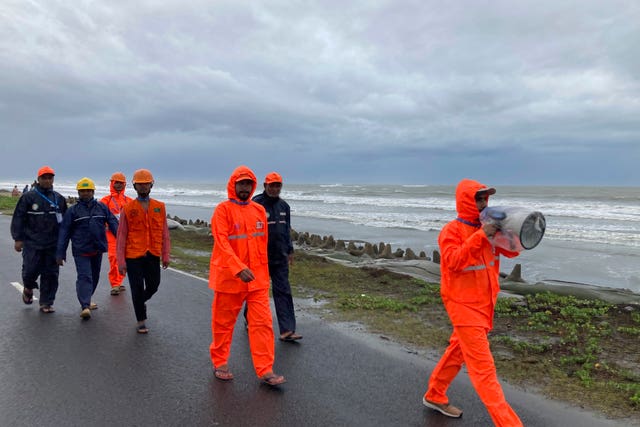 Lin Lin, the chairman of a local charitable foundation, said earlier there was not enough food in the shelters in Sittwe after more people arrived than expected.
On Sunday morning, several deaths caused by wind and rain were reported in Myanmar.
A rescue team from the country's eastern Shan state announced on its Facebook social media page that they had recovered the bodies of a couple who were buried when a landslide caused by heavy rain hit their house in Tachileik township.
Local media reported that a man was crushed to death when a banyan tree fell on him in Pyin Oo Lwin township in the central Mandalay Region.
In Sittwe, a mobile phone tower collapsed under high wind and other buildings were damaged, local media reported.
In most of Bangladesh, the weather remained sunny and humid on Sunday morning.
UN agencies and aid workers in Bangladesh prepositioned tons of dry food and dozens of ambulances with mobile medical teams in sprawling refugee camps that house more than one million Rohingya who fled persecution in Myanmar.
Titon Mitra, the UN Development Programme representative in Myanmar, tweeted: "Mocha has made landfall. 2m people at risk. Damage and losses are expected to be extensive. We are ready to respond and will need unhindered access to all affected communities."
Bangladesh issued the highest danger signal for Cox's Bazar, home to the camps.
The Bangladesh Meteorological Department warned the cyclone could cause severe damage to lives and property in eight coastal districts.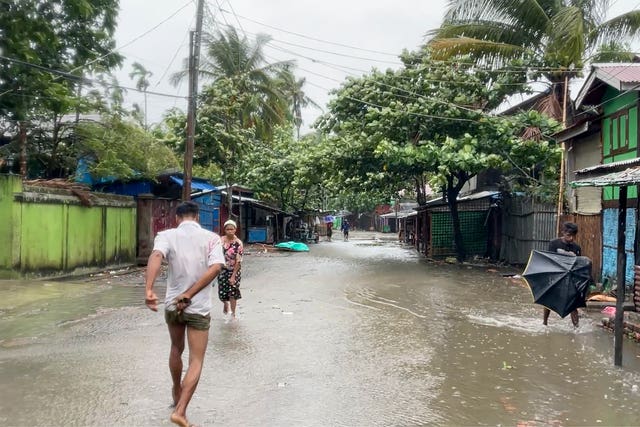 Authorities said some 1.27 million people have been evacuated in the district.
Fisher Jamal Uddin in Cox's Bazar said local elected officials and volunteers were helping at the cyclone shelter.
"We are asking people to move to safe places. We are trying to stay safe," he said.
"The weather isn't good. We are following the instructions of the Meteorological Department. We are now thinking about what to do," he said.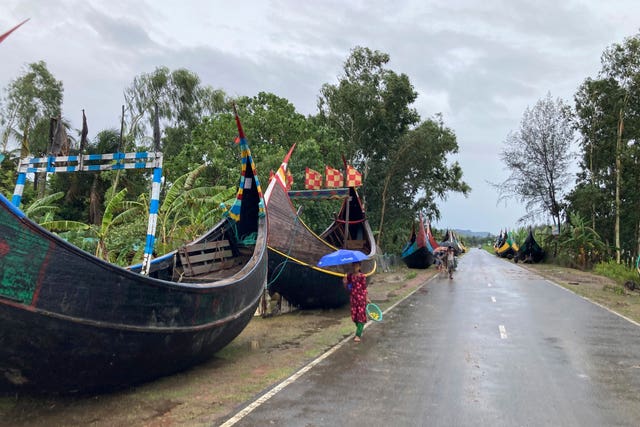 The navy said it is keeping ready 21 ships, maritime patrol aircraft and helicopters for rescue and relief operations.
Authorities in Bangladesh said heavy rains from the cyclone could trigger landslides in Chattogram and Cox's Bazar and three other hilly districts — Rangamati, Bandarban and Khagrachhari.
Bangladeshi Prime Minister Sheikh Hasina has ordered officials to prepare for evacuations and rescues.
The Junior Minister for Disaster Management, Enamur Rahman, said Saint Martin's Island in the Bay of Bengal may face greater risk, and that the government has prepared 37 cyclone shelters to accommodate 8,500 people there.
Roxy Mathew Koll, a climate scientist at the Indian Institute of Tropical Meteorology in Pune city, said cyclones in the Bay of Bengal are becoming more intense more quickly, in part because of climate change.
Climate scientists say cyclones can now retain their energy for many days.
Cyclone Amphan in eastern India in 2020 continued to travel over land as a strong cyclone and caused extensive devastation.
"As long as oceans are warm and winds are favourable, cyclones will retain their intensity for a longer period," Koll said.
Cyclones are among the most devastating natural disasters in the world, especially if they affect densely populated coastal regions in South Asia.