Florida governor Ron DeSantis has sought to weaken former president Donald Trump's grip on the Republican Party as its leading presidential prospects collided in battleground Iowa.
Mr DeSantis, expected to announce his 2024 presidential campaign any day, made little effort to connect with voters one-on-one at a picnic fundraiser in Sioux Centre as several hundred conservatives ate hamburgers.
He focused instead on a formal speech promoting his willingness to embrace conservative cultural fights and sprinkled his remarks with indirect jabs at Mr Trump.
"Governing is not about entertaining. Governing is not about building a brand or talking on social media and virtue signalling," said Mr DeSantis, who wore a blue shirt without a tie or jacket.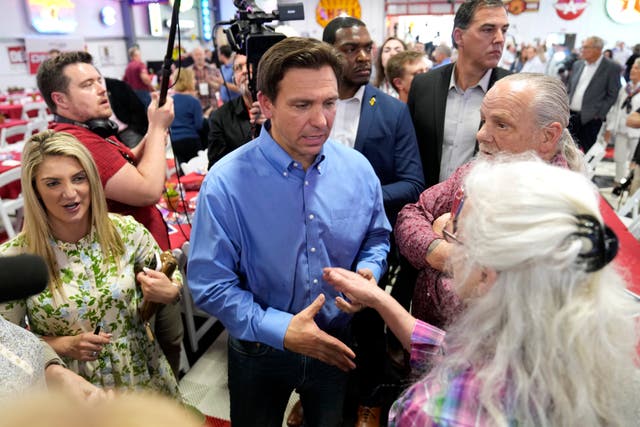 Mr Trump, a candidate since November, had hoped to demonstrate his political strength with a large outdoor rally in Des Moines, the capital, later in the day but he cancelled the event due to a tornado warning.
Although Mr Trump and Mr DeSantis were scheduled to be hundreds of miles apart, the split-screen moment in the Republican Party's lead-off primary state offered an early preview of the match-up between the two Republican powerhouses.
Mr Trump is well ahead of his rivals in early national polls while Mr DeSantis is viewed widely as the strongest potential challenger.
Mr Trump was hoping to return to the comfort of the campaign stage after a tumultuous week.
On Tuesday, a civil jury in New York found him liable for sexually abusing and defaming advice columnist E Jean Carroll and awarded her five million dollars.
A day later, during a contentious CNN town hall, he repeatedly insulted Ms Carroll, reasserted lies about his 2020 election loss and minimised the violence at the US Capitol on January 6 2021.
Mr DeSantis has burnished his reputation as a conservative governor willing to push hard for conservative policies and even take on a political fight with Disney, which he highlighted in Sioux Centre.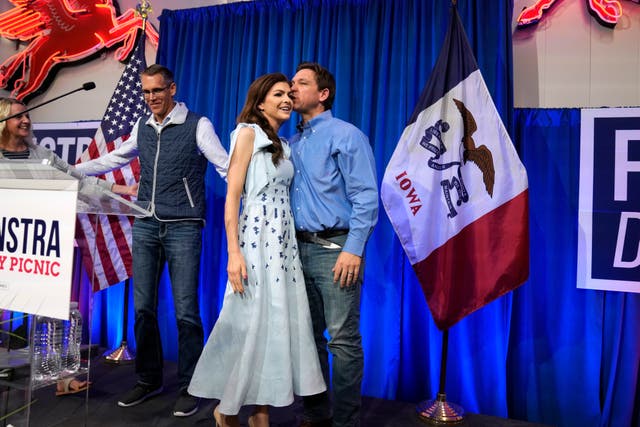 Mr DeSantis devoted much of his remarks to his embrace of conservative cultural priorities, including his opposition to diversity and equity programmes in public schools and laws aimed at curtailing transgender rights.
But, in another indirect jab at Mr Trump, he highlighted the Republican Party's recent string of electoral losses.
He did not say it explicitly, but the party has struggled in every national election since Mr Trump's 2016 victory.
"We must reject the culture of losing that has impacted our party in recent years. The time for excuses is over," Mr DeSantis said.
"If we get distracted, if we focus the election on the past or on other side issues, then I think the Democrats are going to beat us again."
It is uncertain whether Mr DeSantis's political successes in Florida can be replicated on the national stage.
Even before he formally enters the race, he is already facing questions about his ability to court donors and woo voters.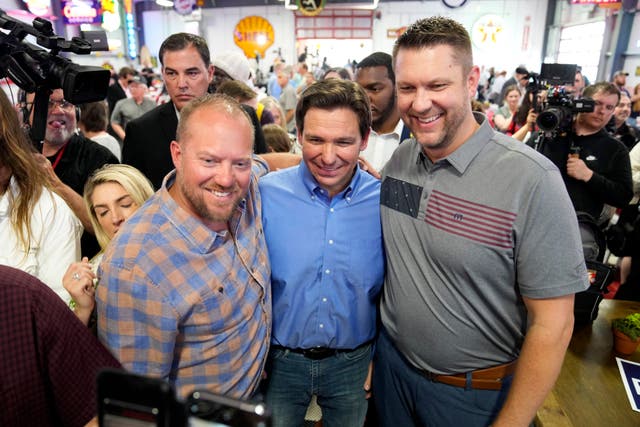 But Mr DeSantis devoted little time for selfies or handshakes in Sioux Centre, where more than 600 people had gathered to see him at an event billed as a family picnic for US Representative Randy Feenstra.
After his speech, Mr DeSantis raced through the crowd and ignored reporters.
Instead of making small talk with voters, as presidential candidates have done in Iowa for decades, Mr DeSantis left most of the politicking to his allied super political action committee, which had set up a table where prospective supporters for his yet-to-be-announced presidential campaign could sign up.
The road outside the museum was flanked with DeSantis 2024 campaign signs.
Meanwhile, Mr Trump was set to headline an evening rally expected to draw several thousand people at an outdoor amphitheatre in Des Moines' Water Works Park.
The former president's aides said the Des Moines event was in the works before Mr DeSantis's plans were made public, and they hope a large crowd draws comparisons to the scale of their respective events.
At least for Mr Trump, their emerging rivalry has turned increasingly personal.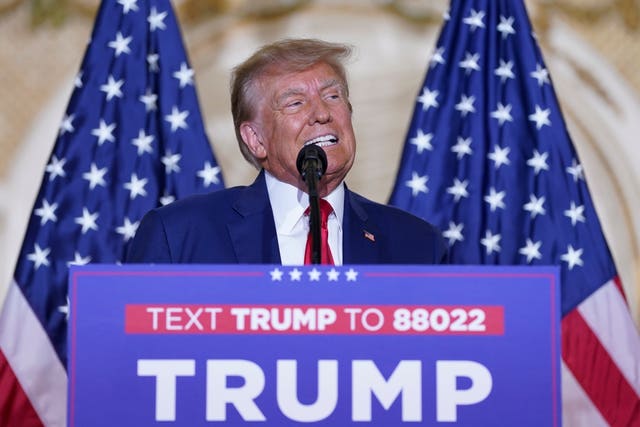 Mr Trump's campaign began airing an ad mocking Mr DeSantis for yoking himself to the former president in 2018 when he ran for governor, even using some Trump catchphrases as a nod to his supporters in Florida.
Mr Trump's super PAC, MAGA Inc, has also aired spots highlighting Mr DeSantis's votes to cut Social Security and Medicare and raise the retirement age.
The group even targeted Mr DeSantis's snacking habits, running an ad that called for him to keep his "pudding fingers" off those benefits.
That was a reference to a report in The Daily Beast that the governor ate chocolate pudding with his fingers instead of a spoon on a plane several years ago.
Mr DeSantis has said he does not remember doing that.
The pro-DeSantis super PAC, Never Back Down, has hired Iowa staff and begun trying to organise support for the governor before a 2024 announcement.
The group announced on Thursday that state senate president Amy Sinclair and state house majority leader Matt Windschitl would endorse Mr DeSantis's candidacy.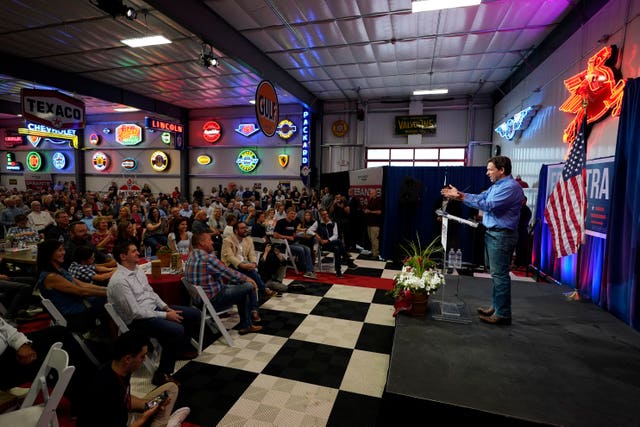 During Mr DeSantis's appearance in Sioux Centre, governor Kim Reynolds and Iowa Senator Joni Ernst were in attendance.
The super PAC has also been providing a more forceful response to Mr Trump, suggesting that he should leave Florida if he is unhappy with Mr DeSantis's governance, accusing Mr Trump of not sufficiently supporting gun rights and siding with liberal Democrats.