Pakistan's former Prime Minister Imran Khan has returned to court to hear whether he will be shielded from renewed arrest or taken back into custody – a decision that put the government and legions of Mr Khan's supporters on edge after days of violent confrontations.
The popular 70-year-old opposition leader, who is accused of corruption, will appear before the same court from which he had been dragged and arrested on Tuesday.
The arrest had triggered nationwide protests in which his supporters attacked military installations, burned vehicles, and ambulances and looted general stores in various parts of the country. The violence drew condemnation from the government.
Friday's court session is part of complex legal manoeuvres.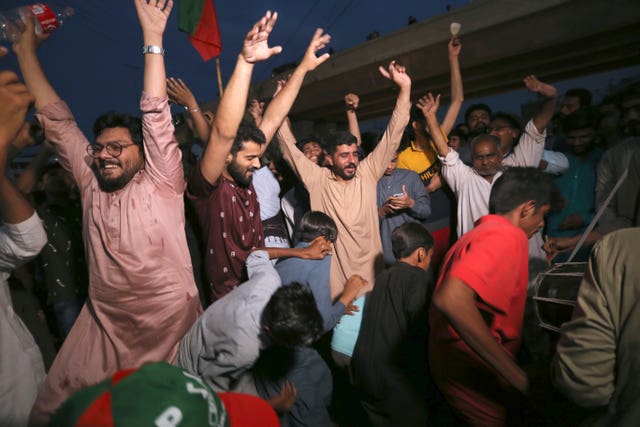 The supreme court said it would respect Friday's ruling by the Islamabad court. The government has said it would quickly re-arrest Mr Khan if the Islamabad high court upheld its earlier order.
Mr Khan's supporters chanted slogans in support as he arrived at the Islamabad court amid tight security. Police arrested several people for defying a ban on rallies.
The former leader was arrested on Tuesday by the National Accountability Bureau in connection with corruption charges, when security agents burst into the Islamabad high court and dragged him out. On Friday, he was back inside the same courtroom.
This week's violence left at least 10 Khan supporters dead.
Dozens of protesters and more than 200 police officers were injured. Protesters torched trucks, cars and police vehicles and blocked major roads.
Her supporters at the time, outraged by her killing, rampaged for days across Pakistan.
Mr Khan, who was ousted as prime minister last year and leads the opposition, faces more than legal 100 cases, most involving allegations that he incited to violence, and threatened police and government officials.
He also faces at least three corruption cases. A new terrorism charge was filed against him on Thursday for allegedly inciting his followers to violence after his arrest.
Under Pakistan's legal system, a defendant can seek protection from arrest in court hearings. Mr Khan is vulnerable to arrests because he has not obtained such protection in all of the cases against him.