The number of people killed in an attack on a synagogue on the Tunisian island of Djerba during an annual Jewish pilgrimage has risen to five, a news agency has said.
The victims included two Jewish pilgrims and three Tunisian police guards.
One police guard died from his injuries following the attack on Tuesday, according to a medical official cited by Tunisia's TAP news agency.
Four other injured members of security forces were hospitalised in Djerba, including one who was in a critical condition, according to TAP.
The Tunisian foreign ministry said the civilians killed were a 42-year-old French national and a 30-year-old Tunisian.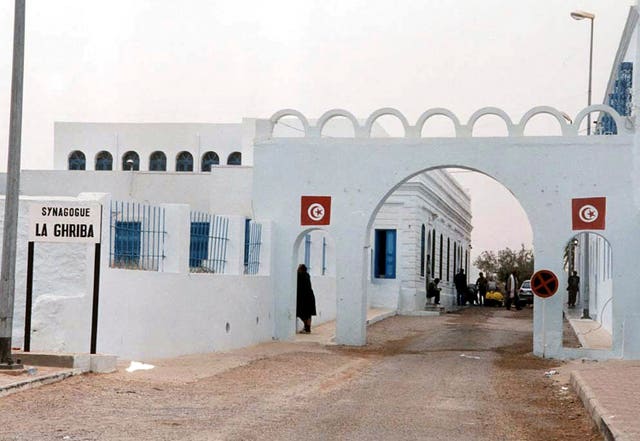 Four civilians were also injured, the Tunisian interior ministry said.
The attacker was killed by security guards.
In a statement, the French foreign ministry expressed its "deep sadness" at the attack.
France paid tribute to the "rapid intervention of the Tunisian security forces and stands by Tunisia to continue the fight against antisemitism and all forms of fanaticism", the statement said.
Israel's diaspora affairs minister Amichai Chikli considered "the terrible attack in Djerba gravely" and noted that "unfortunately the incident was preceded by a tense period of shouts and harassment of the Jewish community at the site", according to his office.
The European Jewish Congress expressed its "shock and outrage".
"Terror attacks continue to target Jews around the world even when they are gathered in prayer, as we know from countless experiences over the years including at this very synagogue," EJC president Ariel Muzicant said in a statement.
The motive for the attack was under investigation.
Djerba, a picturesque island off the southern coast of Tunisia, is home to the North African country's main Jewish community. An annual pilgrimage at the 2,500-year-old Ghriba temple, one of Africa's oldest synagogues, attracts thousands of visitors from around the world.
The assailant, a guard affiliated with the National Guard naval centre in the port town of Aghir on Djerba, first killed a colleague with his service weapon before seizing ammunition and heading towards the Ghriba synagogue, the Tunisian interior ministry said.
When he reached the site, he opened fire on security units stationed at the temple, who fired back, killing him before he reached the entrance, the ministry said.
The synagogue was locked down and those inside and outside were kept secure while authorities investigated the motives for the attack, the ministry said.
In 2002, a truck bombing killed some 20 people at the entrance to the same temple during the annual Jewish pilgrimage. Al-Qaida claimed that attack, whose victims included German and French tourists as well as Tunisians.