Sudan's warring generals have agreed to send representatives for negotiations, potentially in Saudi Arabia, the UN's top official in the country said.
The move came even as the two sides clashed in the capital despite another three-day extension of a fragile ceasefire.
If the talks come together, they would initially focus on establishing a "stable and reliable" ceasefire monitored by national and international observers, said Volker Perthes, but he warned there were still challenges in holding the negotiations.
A string of temporary truces over the past week has eased fighting only in some areas, while in others fierce battles have continued to drive civilians from their homes and push the country into a humanitarian crisis.
The UN food agency on Monday said it was ending the temporary suspension of its operations in Sudan, put in place after three of its team members were killed in the war-hit Darfur region early in the fighting.
The World Food Programme will resume food distribution in four provinces – al-Qadaref, Gezira, Kassala and White Nile – working in areas where security permits, said executive director Cindy McCain said.
The numbers of those in need of help will "grow significantly as fighting continues", she said. "To best protect our necessary humanitarian workers and the people of Sudan, the fighting must stop.''
A day earlier, the International Committee of the Red Cross flew in a planeload of medical supplies to bring some relief to hospitals overwhelmed by the mayhem.
The United States has conducted its first evacuation of American civilians from Sudan.
On Monday, a US navy fast transport ship took 308 evacuees from Port Sudan to the Saudi port of Jeddah, according to Saudi officials.
Direct talks, if they take place, would be the first major sign of progress since fighting erupted on April 15 between the army and a rival paramilitary group called the Rapid Support Forces (RSF).
For much of the conflict, army chief General Abdel Fattah Burhan and RSF commander General Mohammed Hamdan Dagalo have appeared determined to fight to the end.
Their struggle for power has put millions of Sudanese people in the middle of gun battles, artillery bombardments and air strikes.
Around 530 people, including civilians and combatants, have been killed in the conflict, with another 4,500 wounded, the Sudanese Health Ministry said.
Tens of thousands have fled Khartoum and other cities, and more than two thirds of hospitals in areas with active fighting are out of service, with fighters looting the dwindling supplies.
Explosions and gunfire echoed in parts of Khartoum and its neighbouring city, Omdurman, on Monday, residents said, hours after the two sides committed to the 72-hour ceasefire extension.
Atiya Abdalla Atiya, secretary of the Doctors' Syndicate, said fighting raged early Monday in different areas in the capital, including the military's headquarters, the Republican Palace, and the international airport. There were also clashes in the upscale neighbourhood of Kafouri, he said.
Many hospitals in the capital remained out of service or inaccessible because of the fighting, while others have been occupied by the warring factions, particularly the RSF, he said.
The United States and Saudi Arabia have led an international push to get the generals to stop fighting, then engage in deeper negotiations to resolve the crisis.
Speaking from Port Sudan, UN envoy Mr Perthes said they still face daunting challenges in getting the two sides to abide by a real halt in fighting where violations are prevented.
One possibility was to establish a monitoring mechanism that includes Sudanese and foreign observers, "but that has to be negotiated". he said.
Talks on entrenching the ceasefire could take place in either Saudi Arabia or South Sudan, he said, adding that the former may be easier logistically since it has close ties to both sides.
But even talks in Saudi Arabia has challenges, he said, since each side needs safe passage through territory of the other to reach talks.
"That is very difficult in a situation where there is a lack of trust," he said.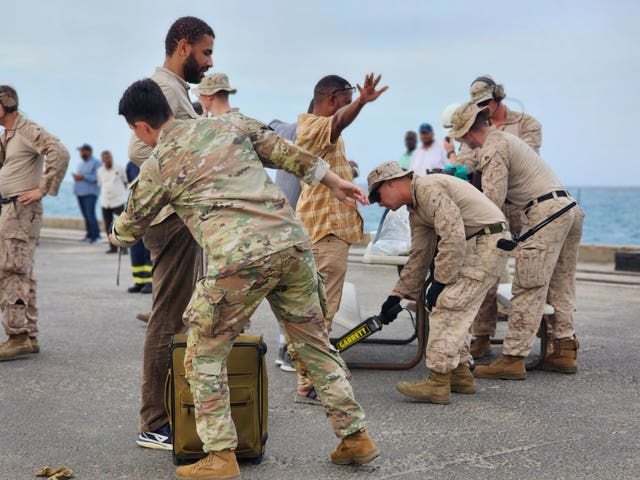 "We all saw the enormous tensions," Mr Perthes said. "But very concretely, we have to say that our efforts to de-escalate did not succeed."
He said he had been warning repeatedly that "any single spark" could cause the power struggle to explode.
Mr Perthes warned of a "major humanitarian crisis" as people were running out of food and fresh water in Khartoum and fighting had damaged water systems.
A real ceasefire is vital to getting access to residents who are trapped in their homes or injured, he said.
"If we don't get a stable ceasefire, then it means that the humanitarian situation will be even worse," he added.
Mr Perthes also warned the fighting could pull in other armed factions in a country where multiple groups have fought several civil wars over the past decade.
"And that could transform into a broader confrontation between different groups and communities and militias in the country," he said.