American and Filipino forces hit a ship with a barrage of high-precision rockets, airstrikes and artillery fire in their largest war drills in Philippine waters facing the disputed South China Sea that is likely to antagonise China.
President Ferdinand Marcos Jr watched the American show of firepower from an observation tower in the coastal town of San Antonio in northwestern Zambales province — the latest indication of his strong backing of the Philippines' treaty alliance with the US.
Mr Marcos has ordered his military to shift its focus to external defence from decades-long anti-insurgency battles as China's increasingly aggressive actions in the South China Sea become a top concern.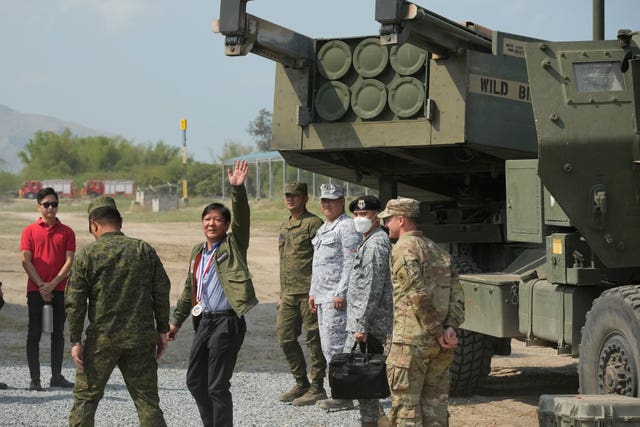 China has angered the Philippines by repeatedly harassing its navy and coastguard patrols and chasing away fishermen in the waters close to Philippine shores but which Beijing claims as its own.
The Philippines has filed more than 200 diplomatic protests against China since last year, including at least 77 since Mr Marcos took office in June.
Sitting beside US ambassador MaryKay Carlson and his top defence and security advisers, Mr Marcos used a pair of binoculars, as rockets streaked into the sky from the US High Mobility Artillery Rocket System, or HIMARS, a multiple rocket and missile launcher mounted on a truck that has become a crucial weapon for Ukrainian troops battling Russian invasion forces.
"Together we are strengthening our capabilities in full-spectrum military operations across all domains," Lt Gen Jurney, the US director for the annual joint exercises called Balikatan, Tagalog for "shoulder-to-shoulder", said.
About 12,200 US military personnel, 5,400 Filipino forces and 111 Australian counterparts were taking part in the exercises, the largest since Balikatan started three decades ago.
The drills have showcased US warships, fighter jets as well as Patriot missiles, HIMARS and anti-tank Javelins, according to US and Philippine military officials.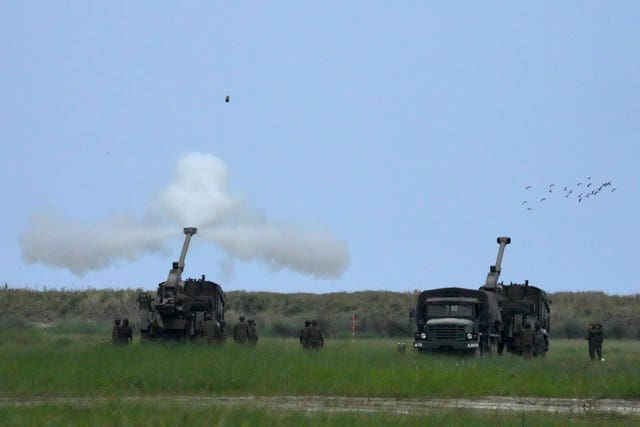 China has opposed military drills involving US forces in the region in the past as well as increasing US military deployments, which it warned would rachet up tensions and hamper regional stability and peace.
Washington and Beijing have been on a collision course over China's increasingly assertive actions to defend its vast territorial claims in the South China Sea and Beijing's goal of annexing Taiwan, by force if necessary.
In February, Mr Marcos approved a wider US military presence in the Philippines by allowing rotating batches of American forces to stay in four more Philippine military camps.
This was a sharp turnaround from his predecessor Rodrigo Duterte, who feared that a larger American military footprint could antagonise Beijing.