Top diplomats from the Group of Seven wealthy democracies are pledging a tough stance over China's increasing threats to Taiwan and North Korea's unchecked tests of long-range missiles, while building momentum on ways to boost support for Ukraine and punish Russia for its invasion.
Russia's war in Ukraine will consume much of the agenda on Monday as the envoys gather in the Japanese hot spring resort town of Karuizawa for the second day of talks meant to pave the way for action by G7 leaders when they meet in Hiroshima next month.
According to a Japanese summary, Japanese Foreign Minister Yoshimasa Hayashi told his colleagues the world is at a "turning point" on the fighting in Ukraine and must "firmly reject unilateral attempts to change the status quo by force, and Russia's aggression against Ukraine and its threats of the use of nuclear weapons".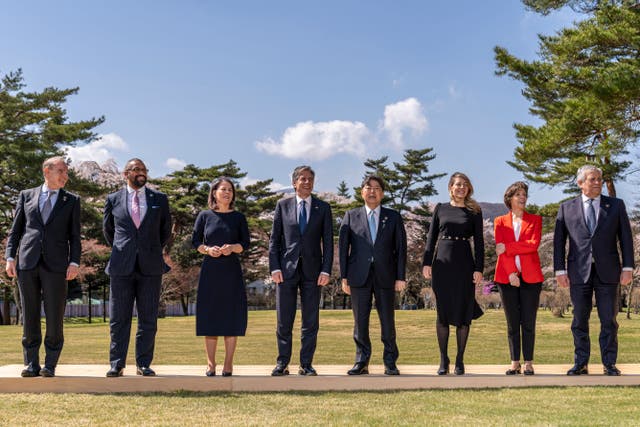 A senior US official traveling with Secretary of State Antony Blinken told reporters that the Biden administration's goal for the talks is to shore up support for Ukraine, including a major initiative on Ukraine's energy infrastructure launched at last year's G7 gatherings in Germany, as well as to ensure the continued provision of military assistance to Kyiv.
Ramping up punishment against Russia for the conflict, particularly through economic and financial sanctions that were first threatened by the G7 in December 2021, before the invasion, will also be a priority, the official said.
Ukraine faces an important moment in coming weeks with Russia's current offensive largely stalled and Ukraine preparing a counter-offensive.
The US official said there would be discussion about ways to deepen support for Ukraine's long-term defence and deterrence capabilities. That might also improve Kyiv's position for potential negotiations that could end the conflict on its terms.
The role of Japan – the only Asian member of the G7 – as chairman of this year's talks provides an opportunity to discuss co-ordinated action on China.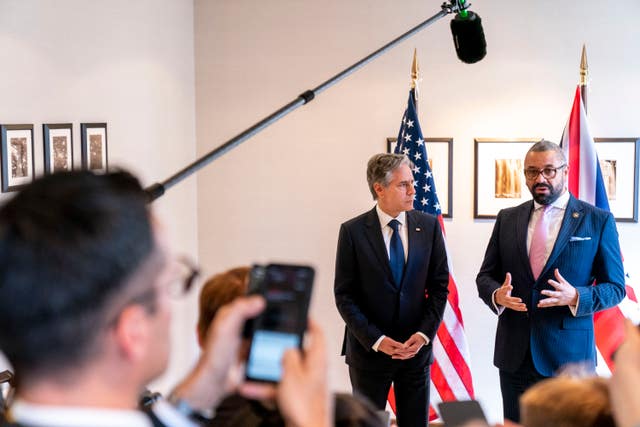 At a private working dinner on Sunday night which was the diplomats' first formal meeting, Mr Hayashi urged continued dialogue with China on the many global challenges where participation from Beijing is seen as crucial. Among the Chinese interests that are intertwined with those of wealthy democracies are global trade, finance and climate efforts.
But the diplomats are also seeking to address China's more aggressive recent stance in North-east Asia, where it has threatened Taiwan, the self-governing democracy that Beijing claims as its own.
Mr Hayashi told ministers that outside nations must continue "building a constructive and stable relationship, while also directly expressing our concerns and calling for China to act as a responsible member of the international community", according to a summary of the closed-door dinner.
China recently sent planes and ships to simulate an encirclement of Taiwan. Beijing has also been rapidly adding nuclear warheads, taking a tougher line on its claim to the South China Sea and painting a scenario of impending confrontation.
The worry in Japan can be seen it its efforts in recent years to make a major break from its self-defence-only post-war principles, working to acquire pre-emptive strike capabilities and cruise missiles to counter growing threats.
He briefly met China's top diplomat, Wang Yi, on the sidelines of the Munich Security Forum, but high-level contacts between Washington and Beijing have become rare. Therefore, he will be seeking insight from his French and German counterparts on their interactions with the Chinese, the senior US official said.
Despite indications, notably comments from French President Emmanuel Macron, that the G7 is split over China, the official said there is shared concern among G7 nations over China's actions. The official added that the foreign ministers will be discussing how to continue a co-ordinated approach to China.
North Korea is also a key area of worry for Japan and other neighbours in the region.
Since last year, Pyongyang has test-fired around 100 missiles, including intercontinental ballistic missiles which showed the potential of reaching the US mainland and a variety of other shorter-range weapons that threaten South Korea and Japan.
Mr Hayashi "expressed grave concern over North Korea's launch of ballistic missiles with an unprecedented frequency and in unprecedented manners, including the launch in the previous week, and the G-7 Foreign Ministers strongly condemned North Korea's repeated launches of ballistic missiles", according to the summary.