French president Emmanuel Macron has toured the reconstruction work at Notre Dame Cathedral in Paris, praising workers who are painstakingly restoring the medieval monument four years after it suffered a devastating fire.
With light streaming through the cathedral's stained-glass rose windows, Mr Macron and his wife Brigitte gazed up at activity under way to replace the roof and spire which were consumed by flames on April 15 2019.
Outside, Mr Macron stepped carefully along scaffolding and shouted to workers: "Good luck, and don't give up in the months ahead!"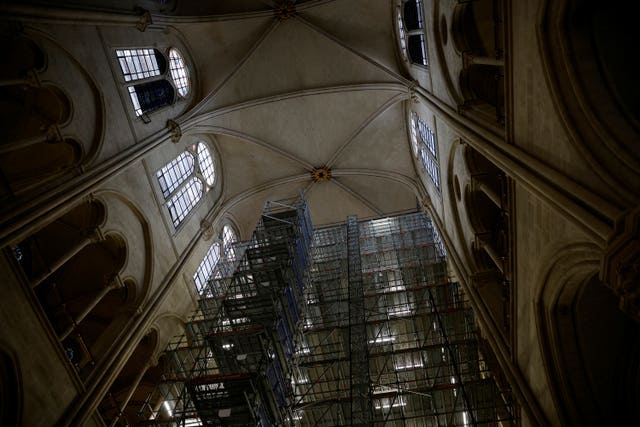 While it will not be ready in time for the Paris Olympics in July-August 2024, it is currently scheduled to open in time for Christmas next year.
Authorities chose to rebuild the 12th-century cathedral, a masterpiece of Gothic architecture, the way it was before. That includes recreating the 93m spire added in the 19th century by architect Eugene Viollet-le-Duc.
The base of the spire is currently being installed and is scheduled to be in place on Saturday, the fourth anniversary of the fire.
The spire itself will be built in stages over the coming months, according to a statement on Friday from the state agency overseeing the reconstruction.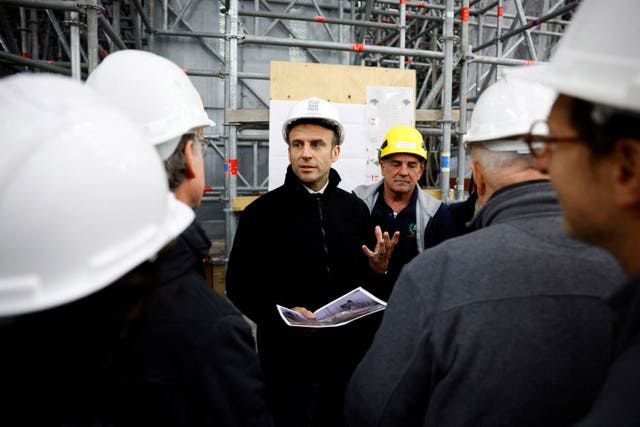 The reconstruction started last year after more than two years of work to make the monument stable and secure enough for specialists to start rebuilding it.
The visit to Notre Dame came amid mass protests around France against Mr Macron's plan to raise the retirement age, and against his leadership.