Newly released police body camera footage shows Louisville officers being fired at as they arrived at the bank where five people were killed – and the gunman being confronted.
Two patrol officers who responded to the shooting were hurt, with one of them hit in the head by a bullet in the Monday morning shooting.
Louisville Metro Police Department deputy chief Paul Humphrey walked reporters through edited footage and photographs at a news conference on Tuesday.
One still image from CCTV footage showed the gunman holding a rifle inside the building, surrounded by broken glass.
Police said he set up an ambush position to attack officers as they arrived.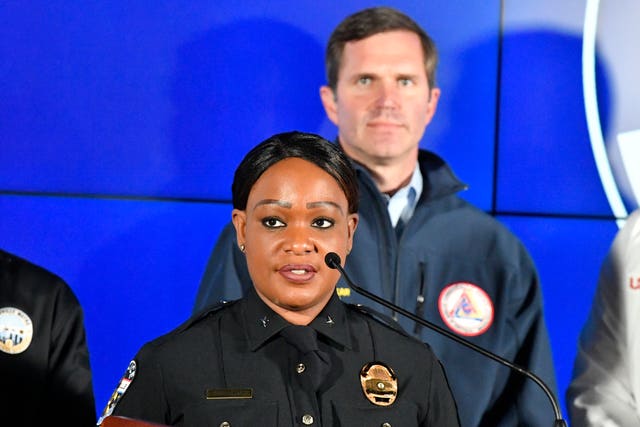 He waits and, as other officers arrive, more gunshots are heard and Mr Galloway fires – and then shouts to say he thinks the attacker is down.
Mr Humphrey said the video shows Mr Galloway "continues to stay in the fight and try to assess exactly where" the gunman is after suffering a minor gunshot wound while on the radio and "trying to get a good view of the" attacker.
Louisville mayor Craig Greenberg said it was crucial to release the footage because "transparency is important — even more so in a time of crisis".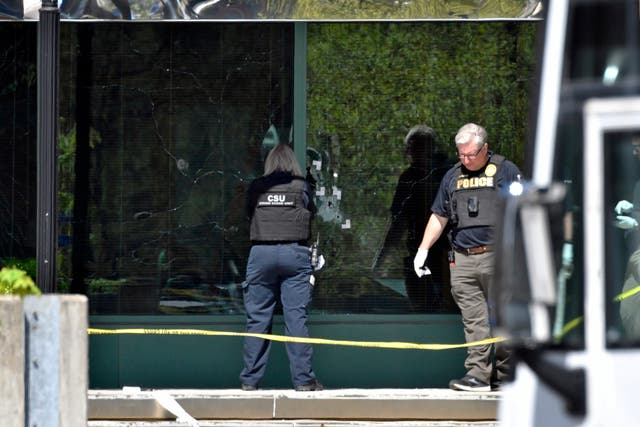 Armed with the rifle, Sturgeon killed his co-workers — including a close friend of Kentucky's governor — while live-streaming the attack before he was killed by police, authorities said.
Another eight people were wounded.
"We do know this was targeted. He knew those individuals, of course, because he worked there," Ms Gwinn-Villaroel said, though she did not give an indication of a motive behind the shooting.
Ms Gwinn-Villaroel praised the "heroic actions" of officers who engaged the gunman without hesitation when they arrived.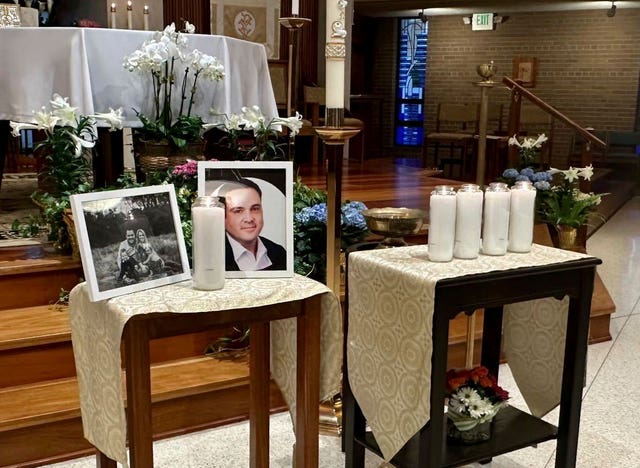 Mr Wilt, who had graduated from training just 10 days earlier, was still in a critical but stable condition on Tuesday after being shot in the head, according to University of Louisville Hospital chief medical officer Jason Smith.
Two of the four wounded still in the hospital had injuries that were not life-threatening, Mr Smith said.
The shooting, the 15th mass killing in the US this year, comes just two weeks after a former pupil killed three children and three adults at a Christian school in Nashville, Tennessee, about 160 miles to the south.
That state's governor and his wife also had friends killed in that shooting.
Kentucky governor Andy Beshear said he lost one of his closest friends in the shooting.
"Tommy Elliott helped me build my law career, helped me become governor, gave me advice on being a good dad," said Mr Beshear, his voice shaking with emotion.
Also killed in the shooting were Josh Barrick, Jim Tutt, Juliana Farmer and Deana Eckert, police said.
"There are no words to adequately describe the sadness and devastation that our Old National family is experiencing as we grieve the tragic loss of our team members and pray for the recovery of all those who were injured," Old National Bank boss Jim Ryan said in a statement.
The mayor urged unity as the community processes its grief.
"We're all feeling shaken by this, and scared and angry and a lot of other things too. It's important that we come together as a community to process this tragedy in particular but not just this tragedy because the reality is that we have already lost 40 people to gun violence in Louisville this year," Mr Greenberg said.