Israeli prime minister Benjamin Netanyahu on Monday retracted his decision to fire his defence minister over criticism of the government's contentious plan to overhaul the judiciary.
In a televised speech, Mr Netanyahu said that Yoav Gallant is staying in his post.
"I decided to put the differences we had behind us," he said.
Mr Netanyahu announced late last month that Mr Gallant was fired.
The decision set off a wave of spontaneous mass protests and a general strike that threatened to paralyse the country, forcing the Israeli leader to suspend his divisive plan to overhaul the judicial system.
Mr Netanyahu said: "Gallant remains in his position and we will continue to work together for the security of the citizens of Israel."
In a tweet showing himself sitting next to Mr Netanyahu, Mr Gallant wrote: "We continue together with full strength, for Israel's security."
Mr Netanyahu had never sent Mr Gallant a formal termination letter. As of Monday, Mr Gallant, whose criticism of Mr Netanyahu's planned judicial changes led to his dismissal, was still in the job.
In recent days, Mr Gallant was seen taking part in Israeli government meetings discussing tensions in Jerusalem that escalated last week and the wider violence they sparked in the region.
"Even in the last few days we worked together and stood together around the clock on all fronts in the face of the security challenges," Mr Netanyahu said.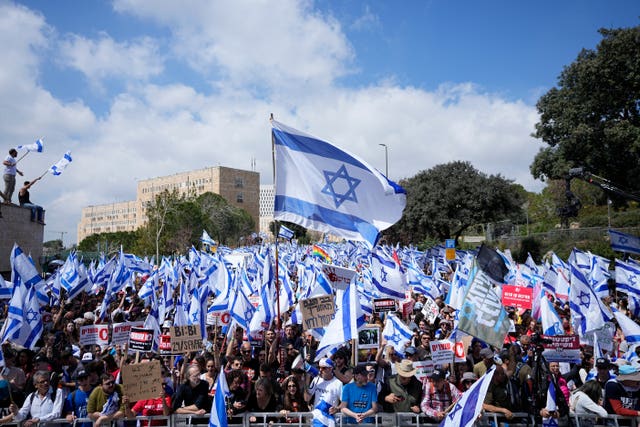 Israel responded with airstrikes and artillery fire at rocket launch sites and accused Hamas and Palestinian militant groups of being behind the attacks.
The judiciary crisis and other issues including his indictment on corruption charges in 2019 have distracted Mr Netanyahu from his traditional focus on security and diplomacy, and many Israelis were concerned about the prospects of a vacant defence minister post.
After Wednesday's police raid on the Al-Aqsa Mosque compound, the third holiest shrine in Islam that is also the most sacred to Jews, rockets were fired on northern Israel from Lebanon, Syria and the Hamas-controlled Gaza Strip.
The escalation came at a time of rare convergence of Muslim, Jewish and Christian holidays.