Pope Francis has led the first of two major Holy Thursday ceremonies, presiding at Mass in St Peter's Basilica as he continues his stamina-testing Holy Week appointments days after being treated in hospital for bronchitis.
The pope's voice sounded strong during the basilica Mass as he read a long homily during the service, which was dedicated to the theme of the priesthood.
Francis, 86, was discharged five days earlier from a Rome hospital, where he received antibiotics administered intravenously.
Inmates at a juvenile prison on Rome's outskirts awaited the pontiff later in the day for Mass and the foot-washing ritual that commemorates the final supper of Jesus before crucifixion.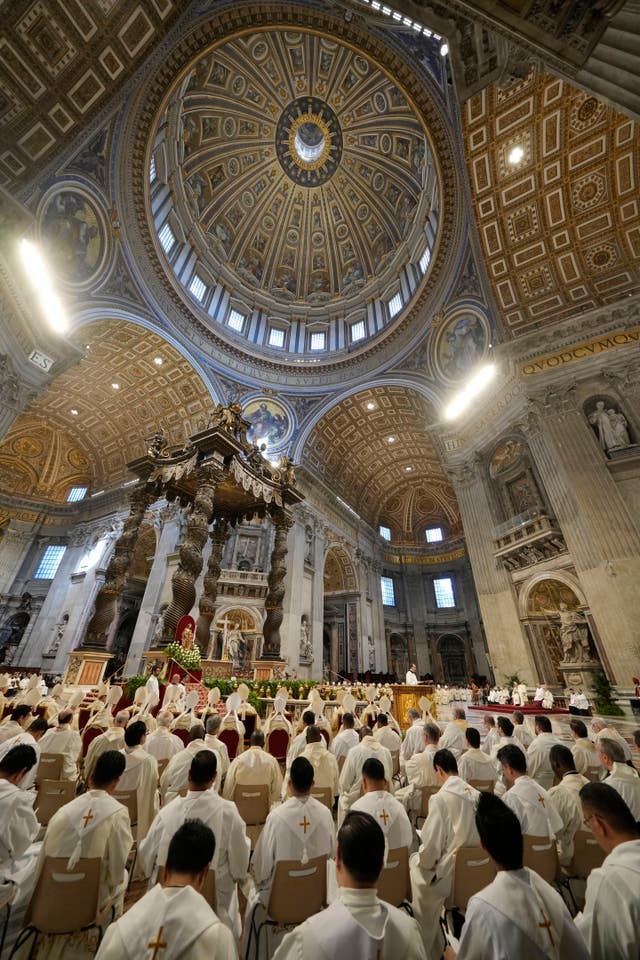 From the start, Francis has used his papacy to focus attention on those living on society's margins, including those in prison.
When the pope was discharged from hospital on Saturday, the Vatican said Francis would carry out the complete Holy Week schedule, including the Good Friday late-night Way of the Cross procession at Rome's Colosseum and Easter Sunday Mass in St  Peter's Square.
At Thursday's basilica Mass, dozens of rows of priests in simple white cassocks sat in front of rank-and-file Catholics in the packed church.
Francis used the homily as a pep talk to priests, after decades of scandals involving sex abuse of children by clergy caused many faithful to lose trust in their pastors.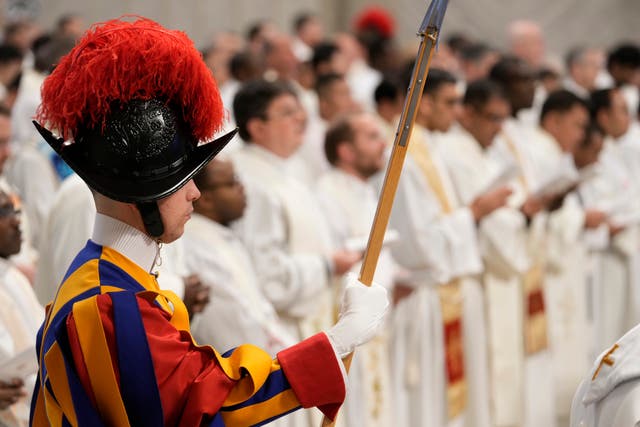 "Sooner or later, we all experience disappointment, frustration and our own weaknesses," Francis said.
"Our ideals seem to recede in the face of reality, a certain force of habit takes over, and the difficulties that once seemed unimaginable appear to challenge our fidelity."
The basilica ceremony traditionally includes the blessing of ointments and priests' renewal of promises made when they were ordained to the priesthood.
Highlighting the spirit of renewal that the pope indicated the priesthood needs, added to the ointments at this year's Mass was bergamot perfume that came from trees in southern Italy on land confiscated by authorities from mobsters.
In off-the-cuff remarks during the homily, Francis told priests not to "forget being pastors of the people".