Thirty-five bodies have been found inside a well at a Hindu temple in central India after dozens of people fell into the muddy water when the well's cover collapsed, officials said.
Footage of Thursday's collapse at the temple complex in Indore in Madhya Pradesh state showed chaos afterward, with people rushing towards the exits.
An excavator pulled down a wall of the decades-old temple to help people flee.
Nearly 140 rescuers, including army personnel, used ropes and ladders to pull the bodies from the well after pumping out the water.
A narrow path and debris in the well made the task difficult.
Witnesses said a large crowd of devotees had thronged the temple to perform a fire ritual and celebrate the festival for the deity Rama.
Dozens of people fell into the water when the structure over the well collapsed and were covered by falling debris, police commissioner Makrand Deoskar said.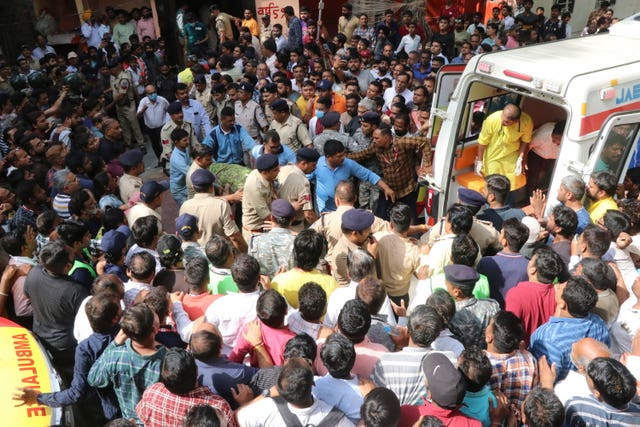 The structure apparently caved in because it could not handle the weight of the large crowd, said the state's top elected official, Shivraj Singh Chauhan.
He has ordered an investigation.
"We have so far recovered 35 bodies and the rescue operation is continuing," a district administrator said.
The effort is continuing on Friday.
A team of army rescuers joined the operation on Thursday night.
The Times of India newspaper reported the rescue work was expedited after underwater cameras showed bodies floating in the muddy waters of the well.
Mr Chauhan said 33 of the bodies have been identified and one person is unaccounted for.
Sixteen of the people who were injured remain in hospital on Friday.
Temple authorities stopped using the well years ago and covered the mouth with iron grills and tiles.
Municipal authorities in January ordered temple owners to remove the well's covering because it was an unsafe and unauthorised structure, but temple authorities ignored the warning, the newspaper said.
Building collapses are common in India because of poor construction and a failure to observe regulations.
In October, a century-old cable suspension bridge collapsed into a river in the western state of Gujarat, sending hundreds of people plunging into the water and killing at least 132 in one of the worst accidents in the country in the past decade.