The United Nations' top court has rejected Tehran's legal bid to free up some 2.0 billion US dollars (£1.6 billion) in Iranian central bank assets frozen by US authorities.
The money is to be paid in compensation to victims of a 1983 bombing in Lebanon and other attacks linked to Iran.
In a 10-5 majority ruling, the International Court of Justice said on Thursday it did not have jurisdiction to rule on the Iranian claim linked to the central Markazi Bank.
In a complex, 67-page judgment, the world court found that some other US moves to seize assets of Iran and Iranians in the United States breached a 1955 treaty between the countries and said they should negotiate compensation.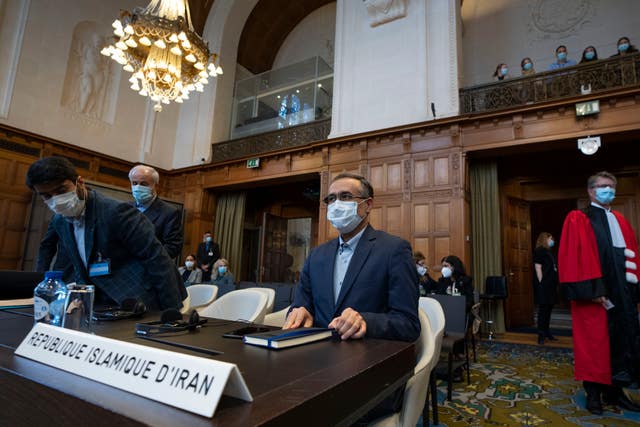 But the largest part of the case focused on Bank Markazi, and its frozen assets of $1.75 billion in bonds, plus accumulated interest, that are held in a Citibank account in New York.
The court said that it did not have jurisdiction based on the 1955 Treaty of Amity.
Iran took its claim to the world court in 2016 after the US Supreme Court ruled that money belonging to Iran's central bank could be used as compensation for the 241 American troops who died in the 1983 bombing, which was believed to be linked to Tehran.
At stake are 1.75 billion US dollars (£1.4 billion) in bonds, plus accumulated interest, belonging to the Iranian state but held in a Citibank account in New York.
After the bombing of the a U.S. military base in Lebanon, a second blast nearby killed 58 French soldiers. Iran has denied involvement, but a U.S. District Court judge found Tehran responsible in 2003.
The judge's ruling said Iran's ambassador to Syria at the time called "a member of the Iranian Revolutionary Guard and instructed him to instigate the Marine barracks bombing."
At last year's hearings, US legal team leader Richard Visek told judges they should invoke, for the first time, a legal principle known as "unclean hands", under which a nation cannot bring a case because of its own criminal actions linked to the case.