Striking workers waving burning flares have blocked train tracks serving one of Paris's main railway stations on a day of nationwide protests against unpopular pension reforms.
Dozens of railway workers with flags and flares marched along tracks outside Gare de Lyon.
It comes after a French minister warned that violent demonstrators intend "to destroy, to injure and to kill".
He said that more than 1,000 "radical" troublemakers, some from overseas, could latch on to planned peaceful marches in Paris and other cities.
"They come to destroy, to injure and to kill police officers and gendarmes. Their goals have nothing to do with the pension reform. Their goals are to destabilise our republican institutions and bring blood and fire down on France," the minister said on Monday in detailing the policing measures.
Union leaders and political foes of President Emmanuel Macron blame his government for protest violence that has flared in recent weeks, saying his pension reforms are sparking it.
The striking railway workers at Gare de Lyon marched behind a banner reading: "The police mutilates. We don't forgive!"
"Everybody is getting madder," said Clement Saild, a passenger at Gare de Lyon who said he supports the strikes despite their impact on transport and other services.
"I am 26, and I wonder if I will ever retire," he said.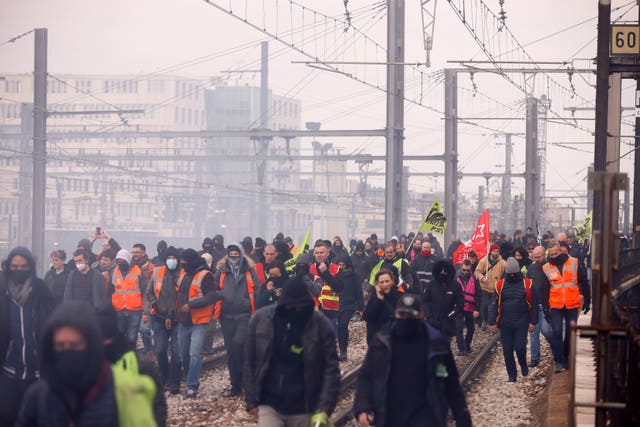 The new wave of strikes and protests was the 10th time since January that unions have called on workers to walk out and for demonstrators to flood the streets in protest against Mr Macron's push to move back France's legal retirement age from 62 to 64.
Unable to get a majority in parliament's lower house for the unpopular reforms, Mr Macron rammed them through using a special constitutional power, further inflaming protesters' anger.
Mr Macron's opponents have urged him to cool tempers by backing down. Union leader Laurent Berger appealed on Tuesday for a pause in implementing the retirement reform and for mediation.
"If we want to avoid tensions — and I want to avoid them — what the trade unions are proposing is a gesture to calm things down," he said. "It must be seized."
But government spokesman Olivier Veran said mediation was not needed for unions and the government to talk to each other.
The latest round of protests prompted Mr Macron to indefinitely postpone a planned state visit this week by the King.
Mr Veran insisted, however, that France remains a welcoming place for visitors.
"Life goes on," he said.