Dozens of people have joined Hong Kong's first authorised demonstration against the government since the lifting of major Covid-19 restrictions under unprecedentedly strict rules, including wearing a numbered badge around their necks.
The rules set out by the police, who cited security reasons, came as the financial hub was promoting its return to normality after years of anti-virus controls and political turmoil.
During the pandemic, protests were rare due to Covid-19 restrictions.
Sunday's demonstration against the proposed reclamation and construction of rubbish-processing facilities was the first police-approved march of its kind after the city scrapped its mask mandate and social distancing limits.
But organisers had to comply with police requirements such as taking measures to ensure the number of participants would not exceed the expected turnout of 100 people and asking for proof of a "reasonable excuse" from protesters who wore masks during the event.
On Sunday, about 60 people expressed their opposition to the plans in Tseung Kwan O, a residential and industrial idea, and had to walk in a cordoned-off moving line in the rain amid heavy police presence.
Resident Theresa Wang, 70, described the new restrictions as "a bit weird" but said they are still acceptable because the city was adjusting to "the new Hong Kong".
"I'm not happy but we have to accept it. We have to accept what is deemed legal now," she said, adding that she hoped the protest would be a sign that the government is more open to discussion.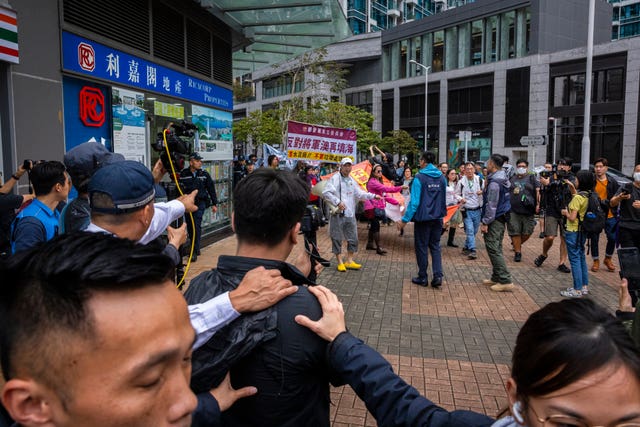 Police said earlier that the requirement aimed to prevent lawbreakers from joining the march.
"But if it is a requirement, what can I say? I prefer not to comment further. You know what I mean," the 69-year-old said.
In granting approval, police also requested that march organisers ensured there would not be any acts that might endanger national security, including displaying anything seditious.
Cyrus Chan, one of the organisers, said demonstrators had communicated with police on their promotional materials and slogans.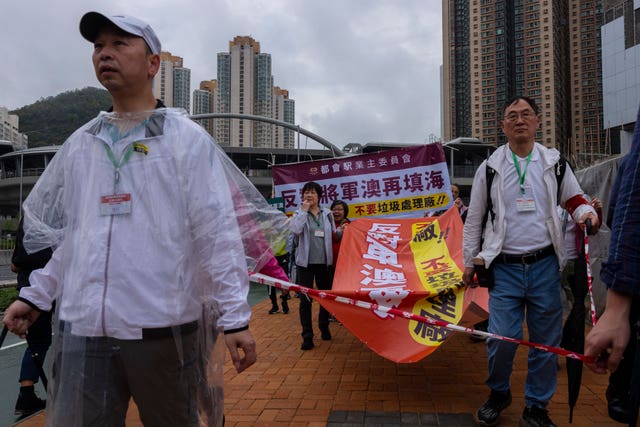 "It's definitely strict," he said. "We hope this is just an individual case. We hope to show them that Hong Kong society has the ability to have peaceful marches and they do not need to set that many conditions to restrict us."
Earlier this month, the Hong Kong Women Workers' Association planned a march to call for labour and women's rights but cancelled it at the last moment without specifying why.
Days later, the association said on its Facebook page that police had invited it for further meetings after granting approval and that it had tried its best to amend the agreement. But it was still unable to launch the protest as it had wished, it wrote at the time.
A pro-democracy group separately said national security police had warned four of its members not to participate in the association's march.