Hundreds of Israeli writers, artists and intellectuals have called on Germany and the UK to cancel upcoming visits by Prime Minister Benjamin Netanyahu, saying his plan to overhaul Israel's judicial system has put the country on a destructive course.
Mr Netanyahu's coalition, a collection of ultranationalist and ultra-Orthodox parties, has pushed ahead with legislation that aims to weaken Israel's Supreme Court and give them control over the appointment of the nation's judges.
They say the plan is a long-overdue measure to curb the outsized influence of unelected judges.
But critics say the plan will destroy Israel's fragile system of checks and balances by concentrating power in the hands of Mr Netanyahu and his parliamentary majority. They also say it is attempt by Mr Netanyahu, who is on trial for corruption charges, to escape justice.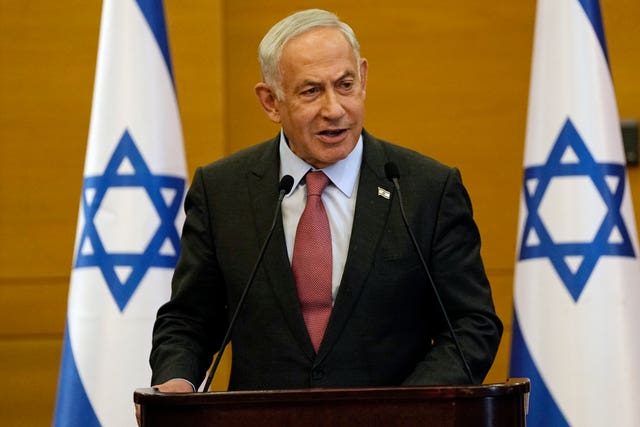 Protests last week were so large that Mr Netanyahu was forced to take a helicopter to the airport in order to catch a flight for an official visit to Italy.
High-tech industry leaders, Nobel-winning economists and prominent security officials have spoken out against it, military reservists have threatened to stop reporting for duty and even some of Israel's closest allies, including the US, have urged Mr Netanyahu to slow down.
Repeated efforts by Israel's figurehead president, Isaac Herzog, to broker a compromise have not been successful.
In a letter addressed to the German and British ambassadors in Israel, some 1,000 Israeli figures said on Tuesday that Israel is in the midst of the most extreme crisis in its history and that Mr Netanyahu is trying to turn the country into a "theocratic dictatorship".
"In the face of Mr Netanyahu's dangerous and destructive leadership, and in light of a vast democratic civilian resistance against the destruction of state institutions by undemocratic law-making, we are asking that Germany and Great Britain swiftly announce to the defendant Netanyahu that his planned state visits to your countries are cancelled," reads the letter.
"If these visits go ahead as planned, a dark shadow will hang over them."
The letter was signed by internationally acclaimed author David Grossman, novelist Dorit Rabinyan, Oscar-nominated director Uri Barbash and scores of academics, business figures and professionals.
Mr Netanyahu is scheduled to meet German chancellor Olaf Scholz on Thursday in Berlin, where Israeli expats say they are organising a large protest against their visiting prime minister.
Mr Netanyahu returned to power in December, following the country's fifth election in under four years, at the head of the most right-wing government in Israel's 75-year history.