Russia has unleashed "a massive rocket attack" which hit critical infrastructure and homes in 10 regions of Ukraine, the country's president said.
Officials are reporting at least six deaths in the largest such nighttime attack in three weeks.
Volodymyr Zelensky said the barrage, which came as many people slept, as an attempt by Moscow "to intimidate Ukrainians again".
"The occupiers can only terrorise civilians. That's all they can do," he said.
The war has largely ground to a battlefield stalemate over the winter.
The Kremlin's forces started targeting Ukraine's power supply last October in an apparent attempt to demoralise the civilian population.
The attacks later became less frequent, with analysts speculating Russia may have been running low on ammunition.
The last major bombardment took place on February 16.
US intelligence does not believe Russia can make major gains on the ground in Ukraine this year because of its large numbers of casualties, its inability to replenish its stocks of weapons and ammunition and poor leadership and morale, Avril Haines, the director of national intelligence, told a US Senate committee on Wednesday.
That may persuade Russian President Vladimir Putin to prolong the war, she said.
The latest missile attack left almost half of consumers in Kyiv without heating, with temperatures at around nine degrees centigrade
In southern Ukraine, the Zaporizhzhia nuclear power station, which is occupied by Russian forces, lost power as a result of the missile attacks, according to nuclear state operator Energoatom.
It is the sixth time Europe's largest nuclear plant has been in a state of blackout since it was taken over by Russia months ago, forcing it to rely on diesel generators which can run the station for 10 days.
Hours later, Ukraine's power grid operator Ukrenergo said the plant was reconnected to the grid.
Nuclear power stations need constant power to run cooling systems and avoid a meltdown, and fears remain about the possibility of a catastrophe at Zaporizhzhia.
The head of the UN nuclear watchdog expressed alarm at the latest blackout, saying he is "astonished by the complacency" of the organisation he leads, the International Atomic Energy Agency (IAEA).
"What are we doing to prevent this happening? We are the IAEA, we are meant to care about nuclear safety," director-general Rafael Mariano Grossi told its board of directors in a meeting on Thursday, according to an IAEA statement.
"Each time we are rolling a dice," he said. "And if we allow this to continue time after time, then one day our luck will run out."
The agency has placed teams of experts at all four of Ukraine's nuclear power plants to reduce the risk of severe accidents.
Air raid sirens wailed through the night across Ukraine, including the capital, Kyiv, where explosions occurred in two western areas of the city. Defence systems were activated around the country.
Overall, Russia launched 81 missiles and eight exploding Shahed drones, according to Ukraine's chief commander of the armed forces, Valerii Zaluzhnyi. Thirty-four cruise missiles were intercepted, as were four drones, he said.
Viktor Bukhta, a 57-year-old resident of a damaged residential building in Kyiv's Sviatoshynski district, where officials said three people were hurt and apartment windows were shattered, said a missile landed nearby at about 6.45am (4.45am GMT).
"We went into the yard. People were injured. They helped. First aid kits were handed out from the cars," he said.
"Then the cars caught fire. We tried to extinguish them with car fire extinguishers. And I got a little burnt."
Ukrainian air force spokesman Yurii Ihnat said he could not remember such an onslaught, with Moscow launching a broad variety of missiles, including six hypersonic Kinzhal cruise missiles.
Foreign minister Dmytro Kuleba was scathing about the attack, tweeting: "No military objective, just Russian barbarism."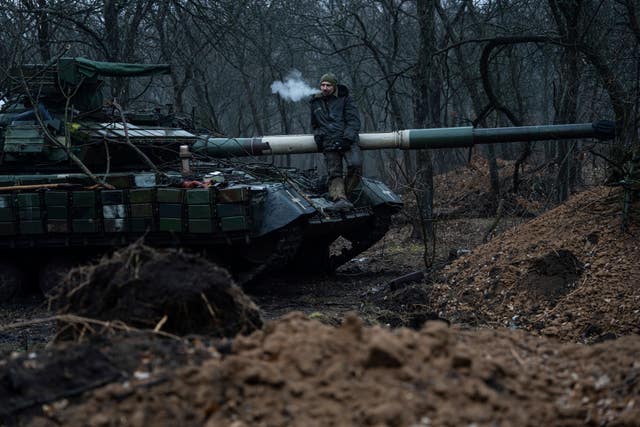 Smoke could be seen rising from a facility in Kyiv's Holosiivskyi district and police had cordoned off all roads leading to it.
The alarm in Kyiv was lifted just before 8 am (6am GMT), with air raid sirens falling silent after around seven hours.
Private electricity operator DTEK said three of its power stations were hit. There were no casualties but the company said equipment was severely damaged.
Kharkiv, Ukraine's second-largest city, was left without running water and heating after 15 missiles hit the region, mayor Ihor Terekhov told the Ukrainian public broadcaster.
Mr Terekhov said electricity shortages also disrupted mobile communications and public transport in the city, as all trams and trolleybuses ground to a halt.
Around 150,000 households were left without power in Ukraine's northwestern Zhytomyr region. In the southern port of Odesa, power lines were damaged and emergency blackouts occurred.
Three men and two women were killed in the Lviv region after a missile struck a residential area, Lviv governor Maksym Kozytskyi said.
Three buildings were destroyed by fire and rescue workers were combing through rubble looking for more possible victims, he said.
A sixth person was killed and two others hurt in multiple strikes in the Dnipropetrovsk region which targeted its energy infrastructure and industrial facilities, governor Serhii Lysak said.
Aside from the hail of missiles, Russian shelling killed six other civilians from Wednesday to Thursday, Ukrainian officials said, including three people at a bus stop in Kherson.
In the south, Odesa governor Maksym Marchenko said missiles hit residential buildings and several power lines were damaged in strikes on his region.
He said six missiles and one drone were shot down.
Ukrainian energy minister Herman Halushchenko condemned the missile strikes as "another barbaric massive attack on the energy infrastructure of Ukraine", saying in a Facebook post that facilities in Kyiv, Mykolaiv, Kharkiv, Zaporizhzhia, Odesa, Dnipropetrovsk and Zhytomyr regions had been targeted.
Ukrainian Railways reported power outages in certain areas, with 15 trains delayed.
Preventive emergency power cuts were applied in Kyiv, Dnipropetrovsk, Donetsk and Odesa regions, supplier DTEK said.