The sister of North Korea's leader has said her country is ready to take "quick, overwhelming action" against the United States and South Korea, a day after the US flew a nuclear-capable B-52 bomber in the region.
The US-South Korean training on Monday involving the B-52 bomber over the Korean Peninsula was the latest in a series of drills between the allies in recent months.
Their militaries are also preparing to revive their largest field exercises later this month.
Kim Yo Jong did not describe any planned actions in her statement but North Korea has often test-launched missiles in response to US-South Korean military drills because it views them as an invasion rehearsal.
"The demonstrative military moves and all sorts of rhetoric by the US and South Korea, which go so extremely frantic as not to be overlooked, undoubtedly provide (North Korea) with conditions for being forced to do something to cope with them," she said.
Hours after Ms Kim's statement, the General Staff of North Korea's Korean People's Army said it put its front-line artillery units on alert and heightened surveillance activities after it detected a live-fire artillery drill by "the enemy" in the South Korean border town of Paju on Tuesday morning.
The General Staff said about 30 rounds were fired during the South Korean exercise, which it described as a "very serious act of armed provocation" that aggravated tensions, and urged its rival to immediately stop such activities near the border.
South Korea's Defence Ministry did not immediately respond to the North Korean statement or confirm an artillery exercise in Paju.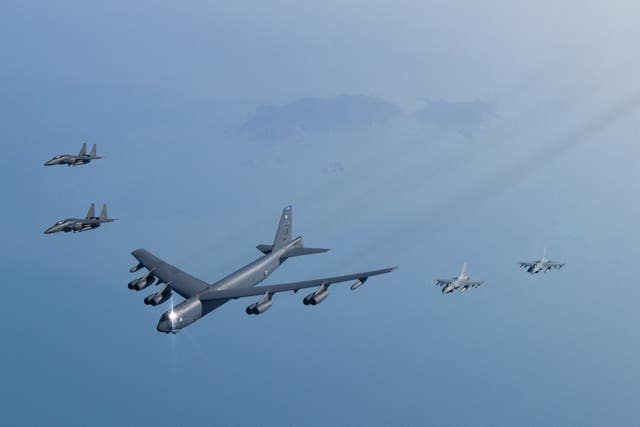 The US deployed B-1B bombers to the peninsula a few times earlier this year. Last month, the US and South Korea also held a simulation in Washington aimed at sharpening their response to North Korean nuclear threats.
Last Friday, the South Korean and US militaries announced they would conduct a computer-simulated command post training from March 13-23 and restore their largest springtime field exercises that were last held in 2018.
The allies had cancelled or scaled back some of their regular drills since 2018 to support now-dormant diplomacy with North Korea and guard against the Covid-19 pandemic.
But they have been restoring their exercises after North Korea last year conducted a record number of missile tests and openly threatened to use its nuclear weapons in potential conflicts with its rivals.
In a separate statement on Tuesday, North Korea's Foreign Ministry called the flyover of the US B-52 bomber a reckless provocation that pushed the situation on the peninsula "deeper into the bottomless quagmire".
The statement said "there is no guarantee that there will be no violent physical conflict" if US-South Korean military provocations continue.