Tens of thousands of Israelis demonstrated on Saturday against prime minister Benjamin Netanyahu's contentious plan to overhaul the country's legal system, as the government pressed on with the proposed changes despite the mass opposition.
The plans were proposed in January, weeks after Netanyahu's ultranationalist coalition, the most far-right government in the country's history, was sworn in.
The overhauls have increasingly divided the Israeli community and given momentum to weekly protests every Saturday.
The debate stems from fears that the changes would weaken the supreme court, limit judges' powers and threaten democratic institutions. Netanyahu and his allies say they will rein in an unelected judiciary.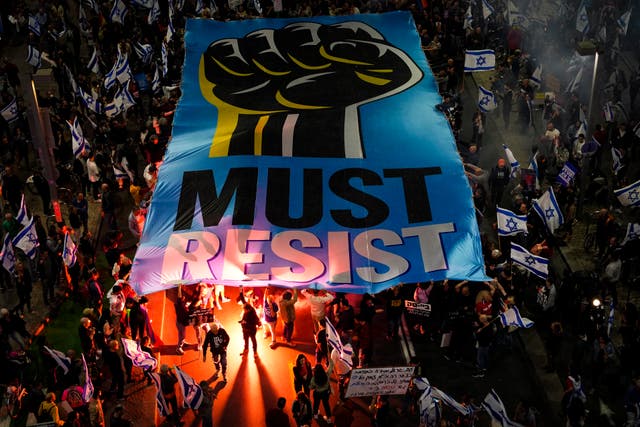 In Tel Aviv, the protesters waved Israeli flags and pictures depicting Netanyahu as dictators such as Caesar. Other protesters waved Palestinian and rainbow flags and shouted "Freedom!"
Other protesters held banners with portraits of Netanyahu and hardline ministers between "From Startup Nation to Shutdown Nation" text.
On Wednesday, Israeli police fired stun grenades and water cannons at demonstrators who blocked a Tel Aviv road and protesters scuffled with police near the Israeli leader's home as weeks of anti-government protests turned violent for the first time.
Netanyahu, who is on trial for corruption, fraud, and breach of trust charges, and his political partners showed no signs of easing up on a push to pass a series of bills to overhaul Israel's judiciary.