Lawyer Alex Murdaugh will be back in a courtroom on Friday, this time facing the judge as a convicted murderer looking at 30 years to life in prison for killing his wife and son.
Prosecutors indicated in earlier court filings that they will ask for a life sentence to finally hold Murdaugh responsible for what they say are decades of lying, stealing and using his family's considerable clout in their tiny county to his advantage.
Any sentence would have no chance of parole.
As Alex Murdaugh stands before a judge to learn his fate, he will be in same courtroom on the circuit his father, grandfather and great-grandfather tried cases as the elected prosecutor for more than 80 years.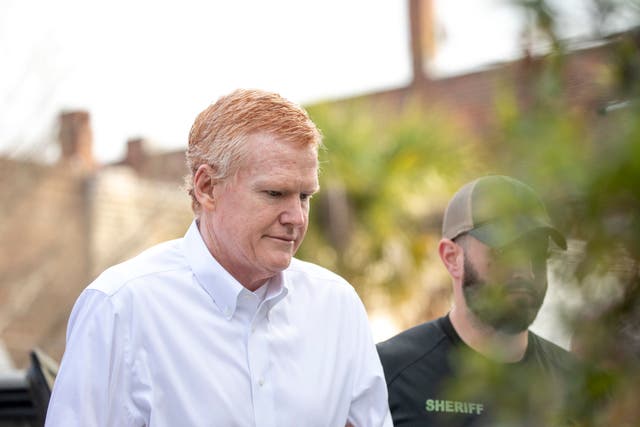 Instead of the dress shirt and sport coat he wore through the six-week trial, the attorney who made millions suing big companies on behalf of people injured in car crashes arrived at court in a jail jumpsuit the day after he was convicted of two counts of murder.
The Colleton County jury deliberated for less than three hours before finding Murdaugh guilty of killing his 22-year-old son, Paul, with a shotgun and his 52-year-old wife, Maggie, with a rifle on June 7 2021.
Through more than 75 witnesses and nearly 800 pieces of evidence, jurors heard about betrayed friends and clients, Murdaugh's failed attempt to stage his own death in an insurance fraud scheme, a fatal boat crash in which his son was implicated, the housekeeper who died in a fall in the Murdaugh home and the grisly scene of the killings.
The now-disbarred attorney admitted stealing millions of dollars from the family firm and clients, saying he needed the money to fund his drug habit.
Before he was charged with murder, Murdaugh was in jail awaiting trial on about 100 other charges ranging from insurance fraud to tax evasion.
The Murdaughs dominated the legal scene in neighbouring Hampton County for a century. Another brother remains in the large law firm the family founded a century ago.